Homemade toy car garage made out of cardboard!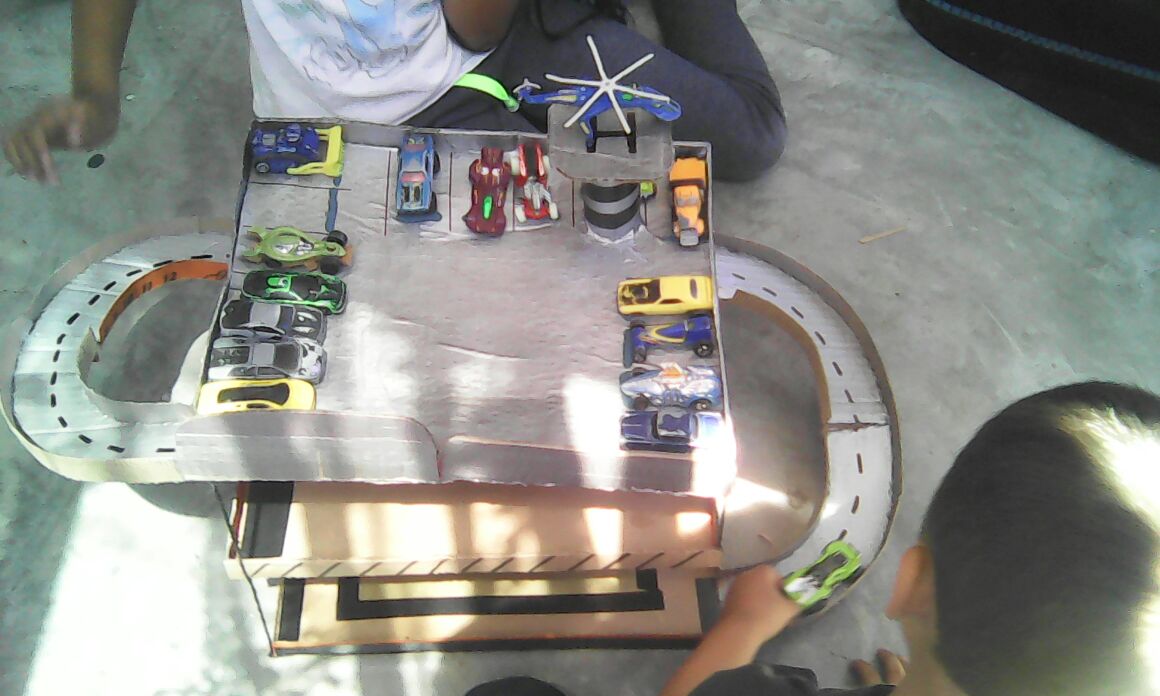 Ciudad De Mexico, Mexico
May 29, 2018 4:37pm CST
So I figured my son has already all these toys that he plays with on a daily basis and a bunch of cars. I haven't bought him toys lately because he already has so many and honestly, sometimes my son leaves toys aside to play with a plastic bottle or asks me to create paper planes for him or simply runs back and forth till he's too tired to even play with his toys lol XD. So I realize that kids aren't really demanding for a nice brand new toy, they just want something they can play with and from there they simply use their imagination. They don't care what brand it is or if it was made in China or Mexico, they actually do like the simple things which is awesome. So since I love creating things, I decided to instead of buying him an expensive toy for his birthday, I'll just make one myself!! and I did it! it's not the best car garage but oh boy does he love it. I just see him walking around with his garage everywhere he goes. What do you guys think!?! (keep in mind it is the first tiny garage I've ever made) XD
9 responses

• Manila, Philippines
29 May
That is so cool. I like the way you think. So resourceful!

• Ciudad De Mexico, Mexico
29 May
Thank you! I really love just building things with paper and stuff. I get so distracted it's also kind of like therapy for me hehehe XD

• Manila, Philippines
30 May
@AnnieY
Always a pleasure. I like your creativeness and it allows your children to be creative and imaginative too. Plus, they are having fun without spending too much on toys.

• Ciudad De Mexico, Mexico
31 May
@mlgen1037
that's right Louise, who knows how much a real plastic toy garage would have cost me. Don't even wanna think about it. lol XD


• United States
29 May
That is great. Kids really don't need all these fancy toys they sell, but the marketing strategy of the manufacturers tell us otherwise. I remember once when my oldest niece was little my sister and I made her a Barbie house out of shoe boxes. We decorated the walls with scrap fabric my sister had and made a few accessories to go with it. I love creating things from scraps and other things from around the house. You did a great job on the garage!!


• Ciudad De Mexico, Mexico
29 May
Awww, I know! I remember when I was younger too I would play with cardboard boxes, plastic cups and mud XD. That's awesome that you like creating things from scraps, I'd love to see some of that! If you wish to show me or course :D and thank you!

• United States
30 May
@AnnieY
I would but I haven't done anything in a long time and I don't have pictures of the things I have done. Maybe if I get up the ambition to create something I will share it here.

• Ciudad De Mexico, Mexico
30 May
@morgoodie
Awesome! I'm an artisan so I also do a lot of knitting, earrings, bracelets, dreamcatchers and stuff like that. I'll post some soon too :)


• Portugal
30 May
That is so great and much more value than those that we bought, it was made by you and I am sure your son appreciated it more.

• Ciudad De Mexico, Mexico
31 May
Yes! I actually loved his reaction when he saw it, he ran straight for his cars and had a huge smile on his face


• Portugal
31 May
@AnnieY
it is understandable, it was made by his mom


• India
1 Jun
Nice one.


• Ciudad De Mexico, Mexico
31 May
Oh yeah!

he was pretty happy

• Philippines
30 May
That is some great work you did there.

• United States
29 May
Awww this is awesome! Looks fun too. I would've never thought of this. Your son has a great mom.

• Ciudad De Mexico, Mexico
29 May
Awww, you're so sweet!! Thank you! I actually tried it before giving it to him and next thing I know I'm just playing with the cars pushing them down the ramp for a few minutes lol! it is fun and cheap! XD