Ha ha or he he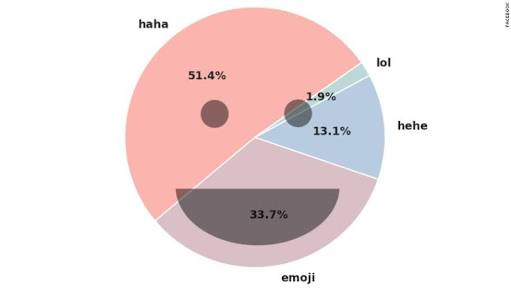 India
May 30, 2018 6:04am CST
I've seen some people like to discuss in their discussion like "Do you like this or that".so i'm going to do the same.What do you like to use ha ha or he he when you are in need to use(in writing) them? once I was confused about those with addition of hi hi.Because my friends used all of those when it comes to laugh.I didn't know which one is right to use for laugh. one day I was texting with my friend 3 years back.I sent her hi hi hi for laughing purpose.But she asked me "why are you using 'hi' 3 times? is this your habit"? This is not a big deal.But I felt awkward. So I stopped using hi hi hi and also he he because I thought it may be confused with 'He'.So I started using ha ha.And it's kinda cute!
7 responses

• India
30 May
@NoorNoor
I like to use smilies instead of typing 'Ha...Ha' or He He.


• Oklahoma City, Oklahoma
7 Jun
I like 'heh' more ... not 'he he,' 'heh.' I dunno---it seems "more real."

• Oklahoma City, Oklahoma
10 Jun
@NoorNoor
Kinda. I got a LOTTA-LOTTA stuff I want to post about, so often I'll focus on 'doing that' and then 'responding to my myLot-notifications (replies on my discussions & -my responses & replies)' If I've gone through all my notifications & don't feel like posting anything on my blogs or my Facebook, then I'll go to my "Follows Their Discussions" (or my "Explore Hot Discussions" or something) and comment to any interesting discussions. Or sometimes I'll get a new follower, start following them, and (while I'm on their profile to follow them) find an interesting topic, which is why I responded here



• Manila, Philippines
30 May
You have a one of a kind discussion, Noor. Interesting. HAHAHA


• Manila, Philippines
30 May
@NoorNoor
anytime, my friend.




•
30 May
This post needs more haha,he he and hihi. Lol