Rambutan (ngo)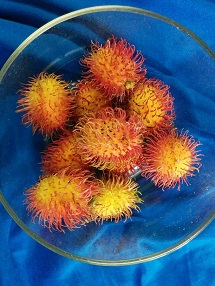 Pattaya, Thailand
June 2, 2018 11:15pm CST
This little fruit is nice and sweet. The small spikes are really soft and there is a seed inside. I am not sure of the cost as I have never bought any. I am too lucky as almost everyday some nice Thai person gives me something to eat. Probably because I am always smiling and making jokes with people.
7 responses

• Philippines
3 Jun
It's around a little less than 2 dollars per kilo here in Metro Manila, cheaper in the nearby provinces and much much cheaper down Southern Philippines. You are lucky they just give you, it's like having a good neighbor who has some kind of fruit tree here



• Philippines
3 Jun
@Paradon
a lot of foreigners who visit Southeast Asia remain, to stay for good because of the people even if the country itself or the government has a lot of shortcomings


• Pattaya, Thailand
3 Jun
@louievill
Very true but every country as some shortcomings...even the ones we leave!


• India
14 Jun
I too like Rambutan very much,they are sweet and delicious,my father too likes it very much.

• Baguio, Philippines
3 Jun
I love rambutans.. I love eating it


• Manila, Philippines
3 Jun
We have something in common again, Richard. I like eating rambutans. Haha

• Singapore
3 Jun
I do eat them but I do not eat often due to expenses.

• Australia
3 Jun
I love Rambutans. Unfortunately they are very expensive here, and only available for a very short season.