new user discussions

Kolkata, India
11 responses


• Bury, England
4 Jun
I do agree it is good to encourage new users.However I believe the main thing to encourage is interesting discussions.That is why I check every part of the site.

• Kolkata, India
4 Jun
@sh2ker
interesting discussion are main stay of this site.

• Bury, England
3 Jun
Yes I do.Though not because I specifically want to respond to discussions from new people. I just check all the discussion search options to try and find the most interesting discussions to respond to.

• United States
3 Jun
Actually, every discussion posted can be found using the 'Most Recent Discussions' option. All the others are redundant.

• United States
3 Jun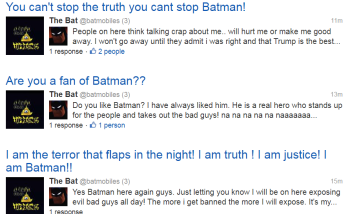 Those same discussions show up in the 'Most Recent Discussions' list when they are posted. I don't respond to a discussion just for the sake of it being a 'new' user. For instance, these three there right now...this is not a new user, just a troll returning to the site

• India
4 Jun
@kanchan10
Yes,I regularly visit discussions under this category.I do so because sometimes I don't find discussions of my choice in other categories.


• Bangalore, India
4 Jun
I generally go through most interesting discussions and respond to it. But I definitely check new user discussion and respond if I find it interesting

• Bangalore, India
4 Jun
@kanchan10
Yes it is needed to encourage each other and help each other to earn.

• Manila, Philippines
4 Jun
Hi Kanchan. Yes, I go thru the list in the New User discussion and if the topic is interesting, I will respond to it.

• United States
3 Jun
Nope.I am checking yours




• Italy
4 Jun
I tend to browse the Most Recent Discussions the most, but thanks for reminding me about the New User's ones. A while ago, I heard these discussions give a little more of reward compared to the ordinary ones, when you engage in them.

• Trinidad And Tobago
4 Jun
I was really encouraged my first week by the responses and follows I got on here. I have tried to do the same thing as well, though I think I might have skimmed past this past week. I am going to make more of a conscious effort to comment here though...