Beginners Luck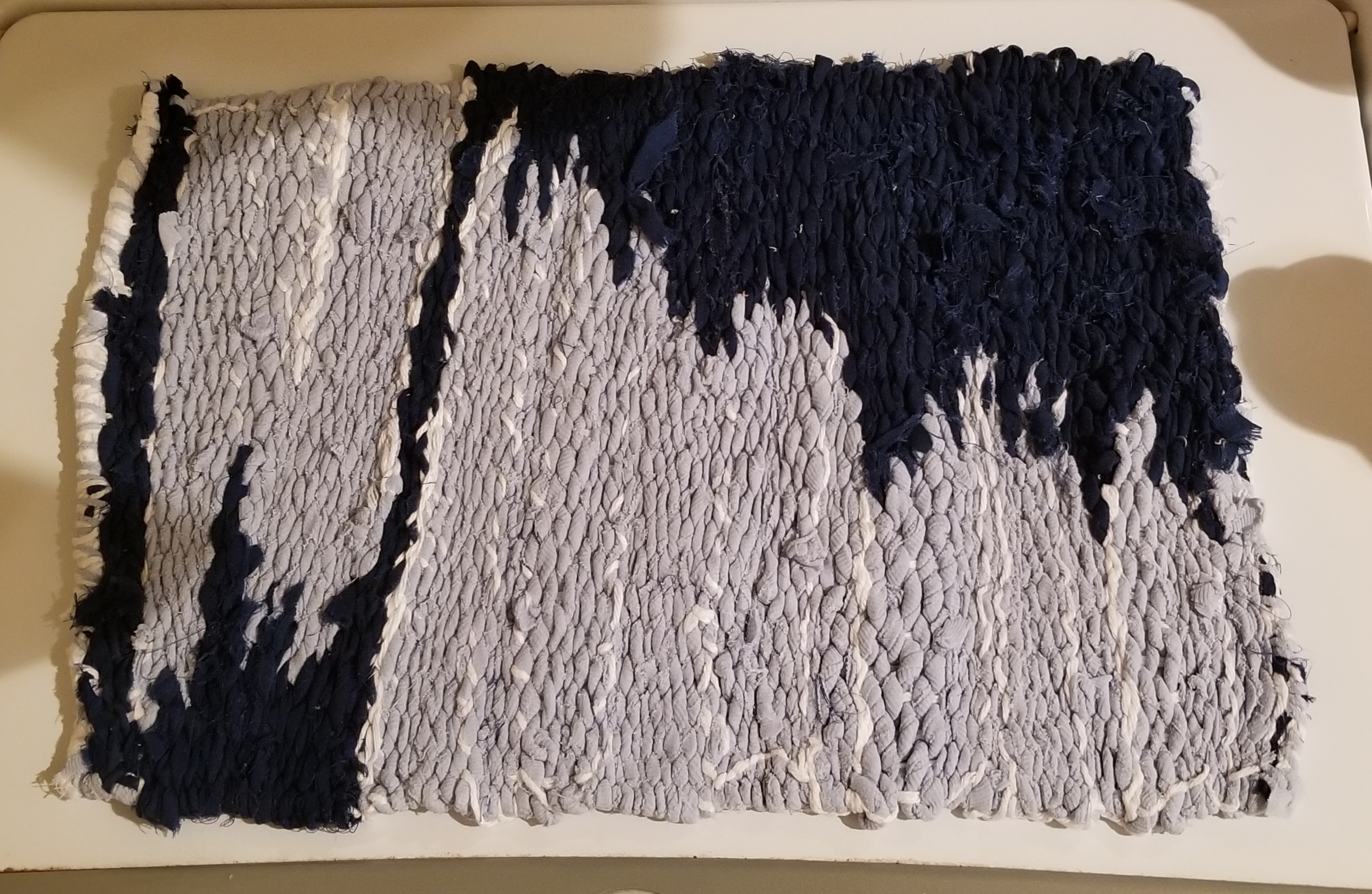 United States
June 4, 2018 12:34pm CST
I took a deep breath and threw this little rug in the washing machine. If I had bought this at a store the edges would be all even and whenever I saw it in years to come I would think "Where did I buy that cute little rug?" But as I am newby to wove it a little uneven and lumpy. It is, after all, a rag rug, so it ought to look a little raggy. When I see it I will say, "That is the first rug I ever made!" It is woven on a peg loom from Himself's old shirts. This makes it precious to me, so I'm very glad it held up in the wash. It should because the twine I wove it from was tarn, a stretchy "yarn" plied from strips of repurposed t-shirts from the rag bag. Have you ever made a rug? Was it a t-shirt rug or some other kind? What do you do with your old t-shirts?
8 responses

• United States
4 Jun
I haven't woven rugs, but I did weave pot holders when I was a kid. Mom had a drawer FULL of them. I must have made her 40 or 50 pot holders. I made them from anything and everything that I could cut up and string through the warp (or was it weft?) threads. Mom used those pot holders for many years, and even gave a few away to friends as gifts.

• United States
4 Jun
Warp it was,
@BearArtistLady
and did you make the adorable bear you use as an avatar? It is very sweet.

• United States
4 Jun
@drannhh
That is one of my creations. I had given it to one of my neighbors a few years ago and last October, after the fire, she called me and asked me if I would like it back since I had lost everything I owned. Of course I accepted her and she has caught many of my tears over the past few months. She also has also prompted me to NOT quit making teddy bears even though I lost all my supplies. The bear is a very important part of my life and every night when I clear the collection of stuffed animals off the bed she gets an extra special hug!

• United States
5 Jun
@BearArtistLady
Thank you for sharing that and tonight please give her an extra hug for me. I have made a few bears, but nothing as fancy as that one.


• United States
4 Jun
I was going to take up rug making one time but got to busy. Now that I am semi retired I might try it now.

• United States
4 Jun
Congratulations on being semi-retired
@popciclecold
and I hope you will have time to do everything you want to do!

• United States
4 Jun
@drannhh
When I go to town I will look up some rug making material. Thanks for sharing.

• United States
4 Jun
@popciclecold
Why not just tear up an old sheet? You will need some warp yarn however.


• Anniston, Alabama
4 Jun
I wear my old t shirts till they are rags to be trash canned. The rug is awesome!

• United States
29 Jun
@drannhh
We have a thrift shop that gives away five t shirts for free off a table in front. If I ever run out at home that would be my source.

• India
5 Jun
All this is Greek to me as I am miles away from a needle and the yarn (lol) You seem quite pleased and that is all that matters.

• United States
6 Jun
I sometimes believe that you are born with the gene to use a needle and thread. I started sewing when I was around 5 years old, and am still an avid seamstress. I use my sewing expertise now to design and make teddy bears and dress them. I recently moved into my boyfriend's home (after my home burned to the ground) and his place is now "decorated" with little bits of fake fur. I've seen him take a paper towel and "pick up and squish" the little "bugs" that are on his white carpet. He'll look in the paper towel to make sure he killed the bug and he'll find that it was only a small piece of fur from one of the bears I'm working on.

Each of us has our spot in life when it comes to what we do. Some of us weave, sew, paint, wood work or any number of other things. Others are meant for other pursuits. I've found it fun to connect with every one from every walk of life here on the lot. I've learned a lot from other members and love the connection with them.

• United States
6 Jun
@BearArtistLady
You started a year younger than me! We find out a lot about each other fast on myLot. Glad you are here.


• Manila, Philippines
5 Jun
Hi Dr Ann. I have never tried making rugs. I usually donate them if the shirts are usable but if not, will use it as a rug or for cleaning.

• Manila, Philippines
5 Jun
@drannhh
I agree with you. It still has its uses.


• India
21 Jun
You did an awesome work.. I don't have self made rug though..


• Midland, Michigan
21 Jun
Any t shirts I've owned I still wear. Otherwise, most of my discarded clothing that's still usable I take to salvation army to sell or give to the poor. I have hooked a few rugs in my lifetime most of them before I was thirty. I never washed any, but they weren't used to wipe offer dirty feet either.. I don't have any of them anymore

• United States
21 Jun
I cannot remember every throwing one of my T-shirts away either, and I'm still wearing some of my late husband's shirts, but my friend who recently passed away wore shirts too small for me to fit into. We sold some in a yard sale and gave many away, but I kept some also to use in crafts.

• United States
29 Jun
I have a rug in crochet process made of old t shirts. I just have not finished it. Or maybe I have and have not gotten it out. I started it because
@elusivebutterfly
said they are great bath rugs. I love your little rug woven from shirts.