"why is mouse called mouse?"

India
September 10, 2006 11:21am CST
Is it a nice name for device?
7 responses

• India
15 Dec 06
because it like act as a mouse and its shape as a mouse .

• United States
11 Sep 06
i have no clue. but its an ok name. my dad makes mouse noises at me when hes looking for batters for his... hes weird.. :P

• Italy
11 Sep 06
in italian language it suond like "topo" or "ratto", therefore in italy the mouse is called mouse...

• United States
11 Sep 06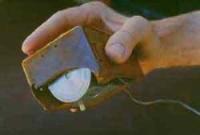 Here is a picture of the first mouse built. As you can see it's a wooden box, with a huge ball for tracking. The original interface for moving a pointer on a screen was developed by Xerox. They used what is called a "track ball", and it was later developed into the mouse, to make it more user friendly.