Dr. Kalam's interest in Physics had its root in 'Philosophy'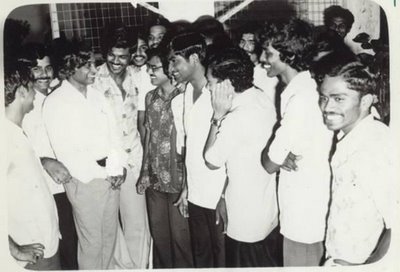 Raurkela, India
June 6, 2018 10:47am CST
After high school at the age of 15, Dr. Kalam had no urge to go back to Rameswaram but continue his higher studies. So he took admission into St.Joseph's College, Trichy. Though he felt a little bit homesick but his room-mates, hostel warden and teachers instilled him the interest in education and learning as a whole. He was interested in classic books like, Tolstoy, Scott and Hardy and some books on Philosophy. It is from the Philosophy that he understood the concept of 'half-life' period and matters related to radio-active decay of substances'. It is in college that he learned that all sub-atomic particles are unstable and disintegrated after a period of time and related it to his science teacher teaching at Rameswaram that 'decay is inherent in all compounds'. He said 'Science is not a subject that takes us away from God. Rather the path of science winds through the heart and is a path to real spiritualism'.
4 responses

• Manila, Philippines
6 Jun
He is one interesting guy.


• Raurkela, India
10 Jun
Yes. No doubt we respect him both as our President and as a person.

• Manila, Philippines
11 Jun
@aninditasen
Then he has my respect.


• Raurkela, India
13 Jun
@mlgen1037
He should have and is respected by his Country men


• Green Bay, Wisconsin
6 Jun
He had an interesting life.

• Raurkela, India
10 Jun
He made it to, be interesting.

• United States
6 Jun
Dr. Kalam was a very well-read man. I do like his statement that science is actually a path to spiritualism.

• Raurkela, India
10 Jun
Science believes in particles so does religion. Science tells us about waves and vibration and so does religion.