JJs Vinyl Madness Countdown #525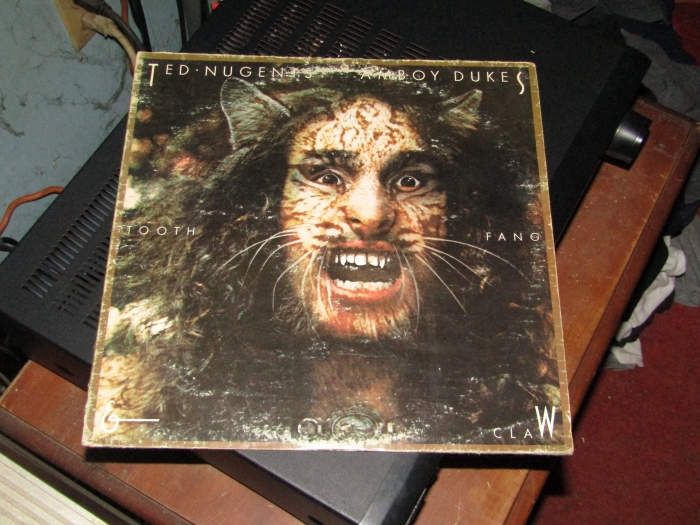 United States
June 8, 2018 3:34am CST
"Fear not the crusted warblers, but be wary of the Mad Cheese Grater for he shall slaw the features from your face. Beware the public carnivores as they inevitably edibly have a soft nosed hollow point magnum behind every bush." Um..okay, Ted.

The last album recorded before Ted went 'solo', you could consider the band a trio, although 4 members are listed on it. (Technically 5, although one...The Rev Atrocious Theodosius...was just an alias Ted used). One person is credited with background vocals only. My 'go-to' album when I want Ted. Ted Nugent's Amboy Dukes - Tooth, Fang & Claw

From Ted's Tooth, Fang, & Claw album, this is a great track featuring Ted, Vic Mastrianni on drums, and Rob Grange on bass. If you can find this CD, buy it -...
3 responses

• Redlands, California
8 Jun
So what happened to homie where he went so terribly wrong. He could of rocked hard is all I am saying and he chose which is fine, but got hateful. I just do not get it. Could have been up there as music legends. He has the skill set but chose hate. My opinion of course and if you can steer me to maybe I am misunderstanding.

• United States
8 Jun
No, he's a stone cold Richard-head for sure.


• Redlands, California
8 Jun
@JolietJake
OK, At least got that part right. He is talented and a shame but get why he is thrown in there but still hard for me to respect. Just mad, maybe see so many talented musicians with real talent like him say and do the right thing but cannot afford to feed their family but he can because he speaks their hateful language, but maybe that says we are truly pretenders where his people are not. Something to be said about that also.

• United States
9 Jun
Meat Loaf sang on Free For All, didn't he? Nothing like ol' Ted....thank God!

• Los Angeles, California
8 Jun
One of Scar's favorite performers.