Surveying their domain.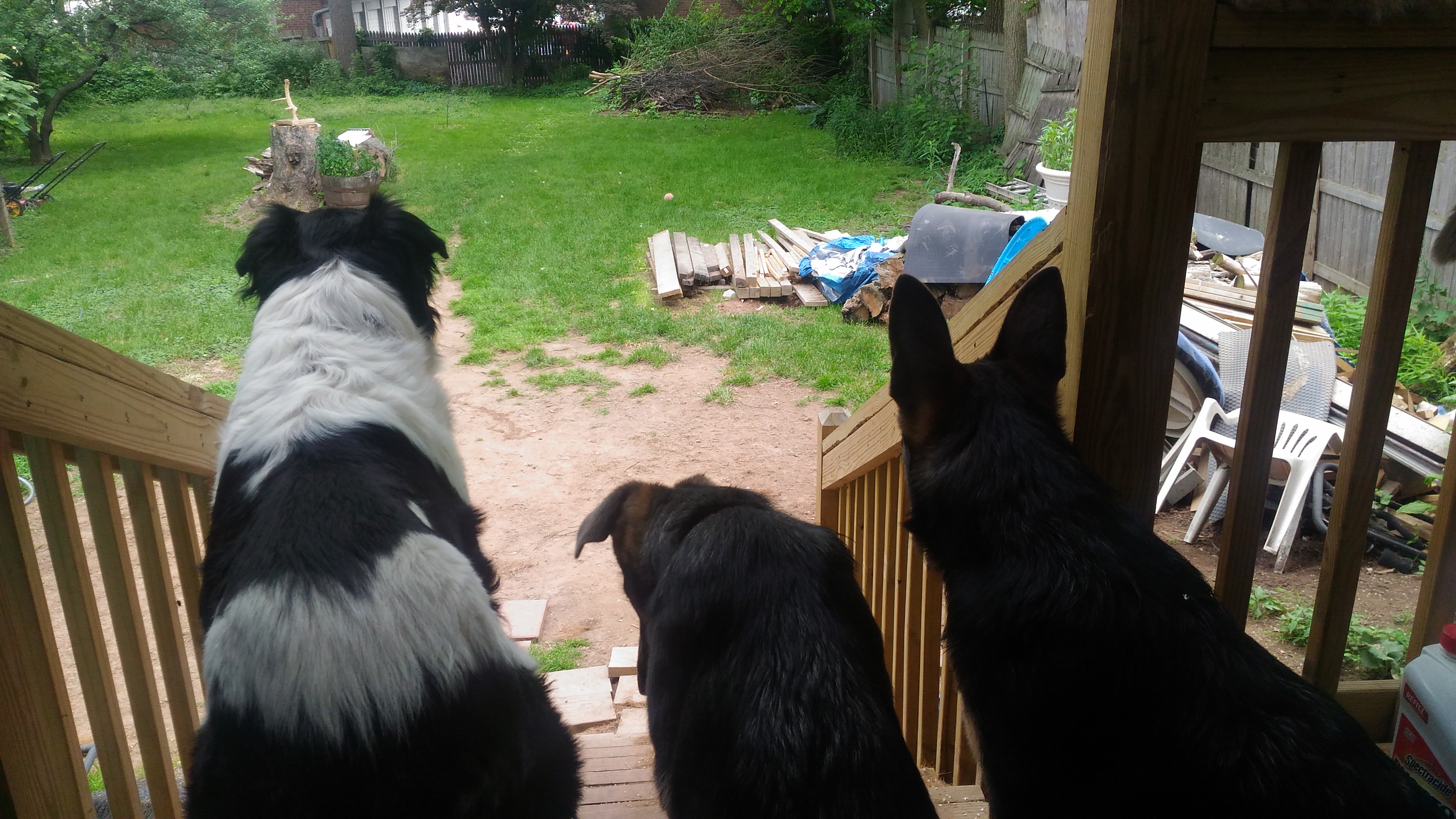 Hartford, Connecticut
June 11, 2018 3:47am CST
I was sitting out on the back deck with the dogs today in a very in typical quiet moment.. The puppies and Trinity all just staring quietly at the back yard for about 3 minutes.. Maybe they were waiting for a squirrel. I don't know. But I knew it wouldn't last long.. As soon as one went the others barreled down the stairs after her.. We have had such good weather lately. The puppies spent over an hour playing in the yard.. I finally made them come in because I was afraid they would overheat... Once in.. It was nap time. Do you have pets that keep watch over their yard?
10 responses

• United States
15 Jun
Aw such a cute photo of the trio

• Hartford, Connecticut
15 Jun
@infatuatedbby
me too. She loves to run around.. and i don't want her slowing down. which Is why i got puppies in the first place.


• Waikoloa, Hawaii
21 Jun
those 3 Dogs would be a Meal for a Hungry puma or Bear




• Hartford, Connecticut
21 Jun
we do not have those running around in the city. and I have 6 dogs.. I don't think they would try. The dogs would chase them away

These dogs were just hanging out in their backyard when ... BEAR! Video by: Anita Diamantopoulou Video footage provided by: Jukin Media (https://www.jukinmed...

• Philippines
12 Jun
Yes we do and sometimes even barks at them.


• Marion, Ohio
11 Jun
That stillness is them thinking what to get into next.

Mine watch the yard and the road it seems. The hate the UPS trucks and bark until it is well down the road.

• Bunbury, Australia
11 Jun
I just love this photo. All sitting quietly side by side but they seem to be on red alert.

• Banks, Oregon
11 Jun
Very cool photo and, yes Rooger is always wanting to check everything out.

• Philippines
11 Jun
hi my friend .. i do have cats but they are always indoor. So they don't really mind the yard though..


• Philippines
12 Jun
my friend, your dogs look so cool i like it. when any of our dogs assume that sitting position staring out of nowhere, i remember my pet dog who crossed the rainbow bridge last year. my son would always say, "contemplating". even if my dog sat in front of the wall, he 'contemplated'. your dogs, they may be tiring their eyes for nap.