3 good things June 17

United States
June 17, 2018 1:18pm CST
Good afternoon! Today has been a wonderful day so far! Thank you God! There is much to be grateful for him today: 1. All girls had fun at church today. :) I know today our pastor mentioned that church isn't suppose to be treated like a playground... to enjoy and then go home to live a different life so to speak. I am however happy my kids enjoy going and are actually interested in learning about and coming to know God better. 2. My husband did a few things around the house. Woot - woot! 3. I'm really looking forward to getting this other load of laundry on the line to dry (got one done before church) and to finish up around the house so I can enjoy watching the movies we rented. How is your day? Looking forward to anything special? Enjoy your day!
7 responses

• United States
17 Jun
Don't know if I've mentioned this before, but your kids always seem so happy, and are always having a lot of fun. I love that! Way to go ! Yay for hubby doing stuff, even on Father's Day! What movies did you rent this time? I want to rent 'Sherlock Gnomes', even though we saw it in the theater when It came out. Yes, actually, I am. We have a WWE pay-per-view on tonight. And, My mom and I ordered shirts for my daughters birthday (this Friday) last night, and I got an email a little bit ago saying that they've been shipped!

• United States
17 Jun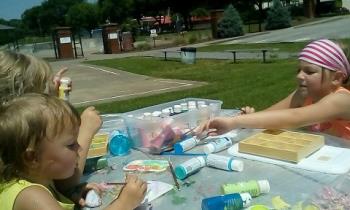 I think its sherlock gnomes and deep blues sea 2? The kid one had gnomes on the front! They really are sweethearts and can find joy in the simplest of things. :) Today, while at walmart a guy was pushing a cart of empty boxes to the back. a few fell off and my two oldest were quick to go help him pick them up. They just really like doing things, regardless of whatever it is. They really like doing crafty things the most though! I took this the last time at the park when they were doing a little painting between playing. They decorated little shelves I picked up at the thrift store- small and perfect for shopkins and littlest pet shops! Enjoy the wrestling matches! I went to one a LONG time ago when undertaker and ray masterio jr was in it (are they still?!). ps! happy birthday to your little girl!

• United States
17 Jun
@Daelii
yeah, it's more than likely that one. No idea about the sea one. Sounds it! And that's great. That's how my brother and I always were as kids too. And still today. and the older folk are always surprised when we help them out. I loved painting and crafts as a kid, but not really anymore unless have the kids around to do them with for the memories. That sounds like a great craft. Thank you, times 2. Undertaker has been in a match once a year ish over the years. But basically, he's not really wrestling anymore. Rey still wrestles, I believe, but not for WWE. both were favs of mine growing up. Wish I had gone to shows back when they were wrestling.. but never started to go until like 2010 or 2011.

• United States
17 Jun
Sounds like a good day for you all the way around.

• Peoria, Arizona
17 Jun
Yey that sounds like a great day! I was dealing with stuff on my website and posting my new webcomic yey!

• Los Angeles, California
17 Jun
Just kicking back watching baseball.

• United States
17 Jun
A very good, but a very hot and humid day here. It seems that everyone is indoors today to escape the 96 degrees. I focused on "My husband did a few things around the house." That is a rare occurrence around here, but I am always in awe when my husband does do a few things around the house..