Little Creek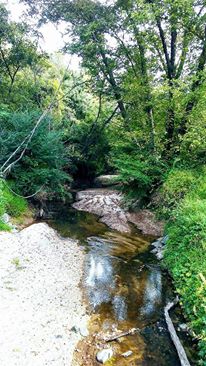 United States
June 28, 2018 12:16pm CST
I have talked about this creek before. I've shared photos of it before as well. Last night my subconscious saw fit to have me rowing down this narrow water way. I knew that the creek must be somewhat long but I wasn't aware of how long the creek actually was. Atleast not until I went to google maps and followed it. It ends closer to my home before turning into another creek by the name of "Muddy". It does shoot off in little droves but ends on the other side closer to "old town". I call it "old town" because the part of town I refer to began developing in the 1950's. The area we live in didn't start budding up until the 1970's. Anyway. I'm not sure what I was doing on that creek in my dream but it wasn't as peaceful as this picture here.
8 responses


• United States
28 Jun
Yes our daily thoughts can sometimes conjure some very strange dreams. Last night's dream had me trying to get away from something.

• India
28 Jun

• United States
28 Jun
That dream sounds like one that would bring a lot of joy.

• United States
28 Jun
I was trying to flee from something and was using the water to do so. This isn't the first time I've had a dream where I fled something via water.

• United States
28 Jun
@ScribbledAdNauseum
That is interesting. The majority of my dreams involve heights. I have a huge fear of heights.

• United States
28 Jun
@Corbin5
I will sometimes dream that I am falling from somewhere and my body jolts and wakes me up. I've had dreams that I was in a plane and the plane had no walls. It was only the seats and the bottom of the plane with the wings on the side. Then the wings gave out and we had to pedal!


• Los Angeles, California
28 Jun
It looks like a quiet peaceful spot.

• United States
28 Jun
I was standing on one of two bridges in my neighborhood park. It is very peaceful.

• Philippines
28 Jun
Very colorful creek. Seems you are always fascinated with this creek that it even visit you in a dream.

• United States
28 Jun
It's a very peaceful place. It would be interesting to follow it on foot but of course I couldn't follow it for very long.


• United States
29 Jun
All I can remember of it now is that it was night and I was having to row through the creek (though it was much wider in my dream) and get to safety. I ended up in my neighborhood but I got stopped by a woman whose children I was with. She made me stay at her house until she finally kicked me out. It was odd and just a bit terrifying. I wish I could find pictures of the area from years ago but my family has none.

• Atlanta, Georgia
30 Jun

• United States
30 Jun
@RubyHawk
I have had some really weird dreams in the past. There was one time, and I wrote about it years and years ago, that I dreamt about an old abandoned stretch of road and an old dirty couch. I was trying to find a job and I was told to sit on the couch and wait.


• Hong Kong
28 Jun
I wonder what does that dream of yours mean my friend?



• United States
28 Jun
I am not sure but it's the second dream I've had featuring water and the need to flee from people.

• Hong Kong
28 Jun
@ScribbledAdNauseum
Alright my friend.


• United States
28 Jun
@mandala100
Sometimes I wonder if these type dreams have a more personal note to them. Like, maybe an ancestor of mine had to flee from someone in the water.


• United States
30 Jun
It is just a half hour's walk away.

• Philippines
30 Jun

• United States
30 Jun
@rakski
Yes or I could drive and be there in five minutes.


• United States
28 Jun
In the dream it was much bigger and easily traversable by boat.