Why It's Hazel Miller. What an Unexpected Surprise!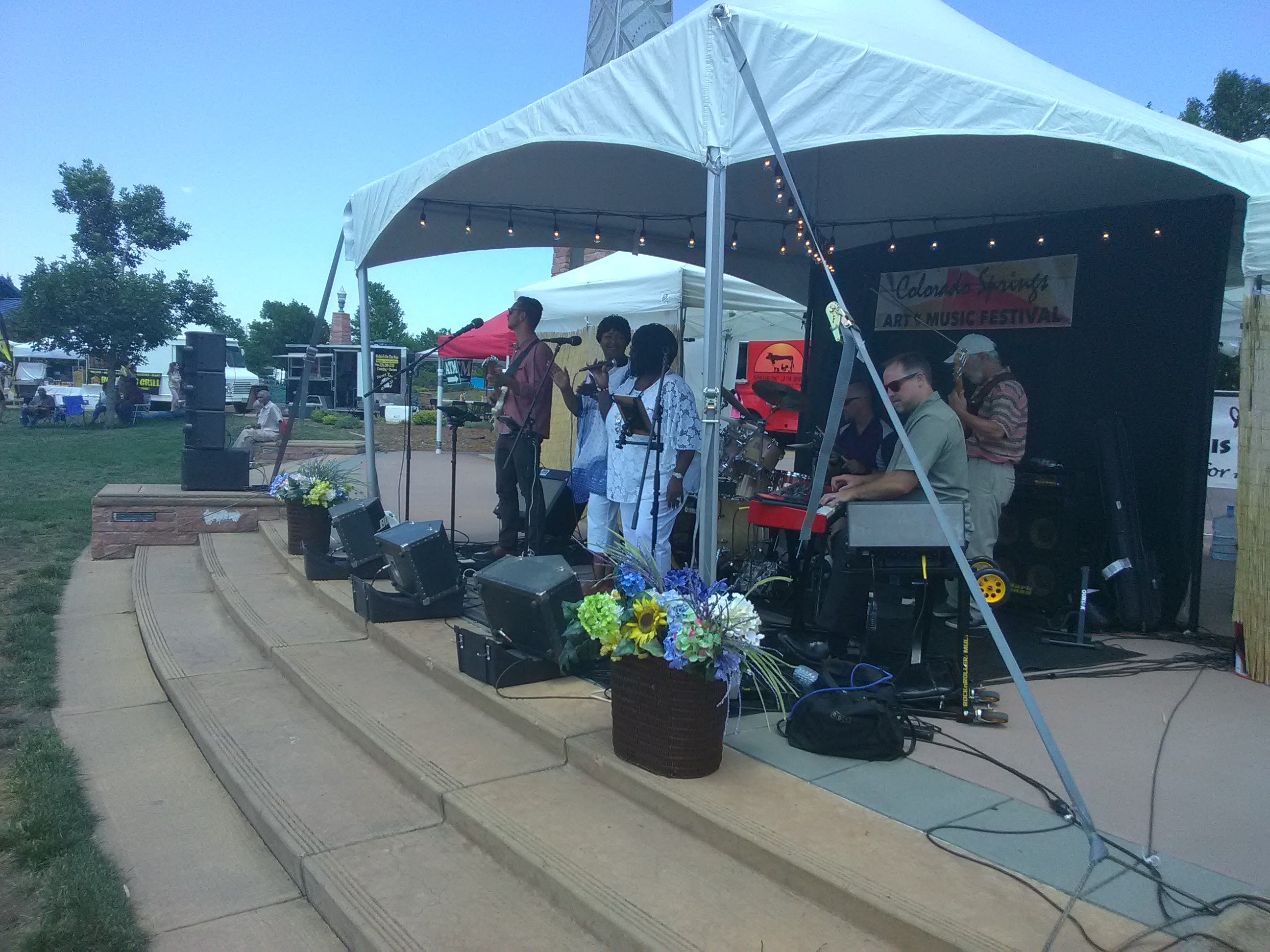 Colorado Springs, Colorado
July 1, 2018 8:30pm CST
Funny how things turn out sometimes. On a whim, we decided to head to Downtown Colorado Springs this morning, to hang out at America the Beautiful Park. When we got there, we noticed some festival tents set up in the park, which meant that something was going on. I happen to be very good at recon missions, and was even awarded for a two week mission that I performed while in the Army, so they usually fall to me. It was the annual Colorado Springs Arts and Music Festival, a two day event showcasing local artists and musical acts. I beelined to the stage to see the list of the acts that would be performing later in the day, and there it was, 1:30, The Hazel Miller Band. Oh, hell yes, we are staying! Denver blues/jazz/pop/Gospel singer Hazel Miller is, frankly, awesome. The now-defunct Rocky Mountain News once called her "a force of nature," and the vocalist has been named one of The 150 People That Make Denver a Great Place to Live. Hazel Miller's career started in Louisville, Kentucky, where she became known for opening for legendary acts such as Mel Torme, James Brown, and The Temptations. But as a long-time resident of Colorado, she has really won a place in the hearts of music fans in our state. If there's a jazz festival happening, odds are that you are going to see Hazel Miller's name somewhere in the lineup. My favorite Hazel Miller memory? We went to a Colorado Avalanche game a few years back, and for some reason, the team's regular National Anthem singer, Jake Schroeder, couldn't make it that night, so the team got Miller to fill in, and oh, man, was it great! Anyway, the band made sure to make today's show fun, throwing both a Stevie Wonder funk-era medley, and a Sly and the Family Stone medley into the setlist. It's not from today's concert, but I've linked to a live performance of the song, "Home of the Blues," which is the tune that ended today's show. Am I sunburned? Yes. Was it worth it? Absolutely! (Info verified by Hazel Miller's official website)

Denver-based Hazel Miller Band perform "Home of the Blues" at the First Annual Boulder Roots and Blues Summit in May 2011. Performance occurred at the Fox Th...
4 responses

• Bunbury, Australia
2 Jul
I just love these events which happen so spontaneously. The sunburn will keep you remember the event for a day or two longer.


• Colorado Springs, Colorado
2 Jul
Yeah, that's true. I pretty much get the same effect from a long day out on my bike.

• Los Angeles, California
2 Jul
That was a musical treat for you.

• Colorado Springs, Colorado
2 Jul
It definitely was. Hazel rocks!

• United States
2 Jul
Always happy that we in Louisville can give the world some music!!

• Colorado Springs, Colorado
2 Jul
It's a launching pad for talent. And not just music. Ali, Hunter S. Thompson.

• Colorado Springs, Colorado
2 Jul
Oh, by the way, Los Lobos are headlining our annual Blues Under the Bridge festival next weekend. Five bands for$60, but since we didn't know that it was them, we didn't budget for $120. We probably won't be able to swing it. Dammit!


• United States
2 Jul
Funk is one of my favorites, not many play it anymore. You are so lucky, I dont get to go do any of that stuff anymore. I miss live music.

• Colorado Springs, Colorado
2 Jul
I never get tired of listening to funk.