Silly Cat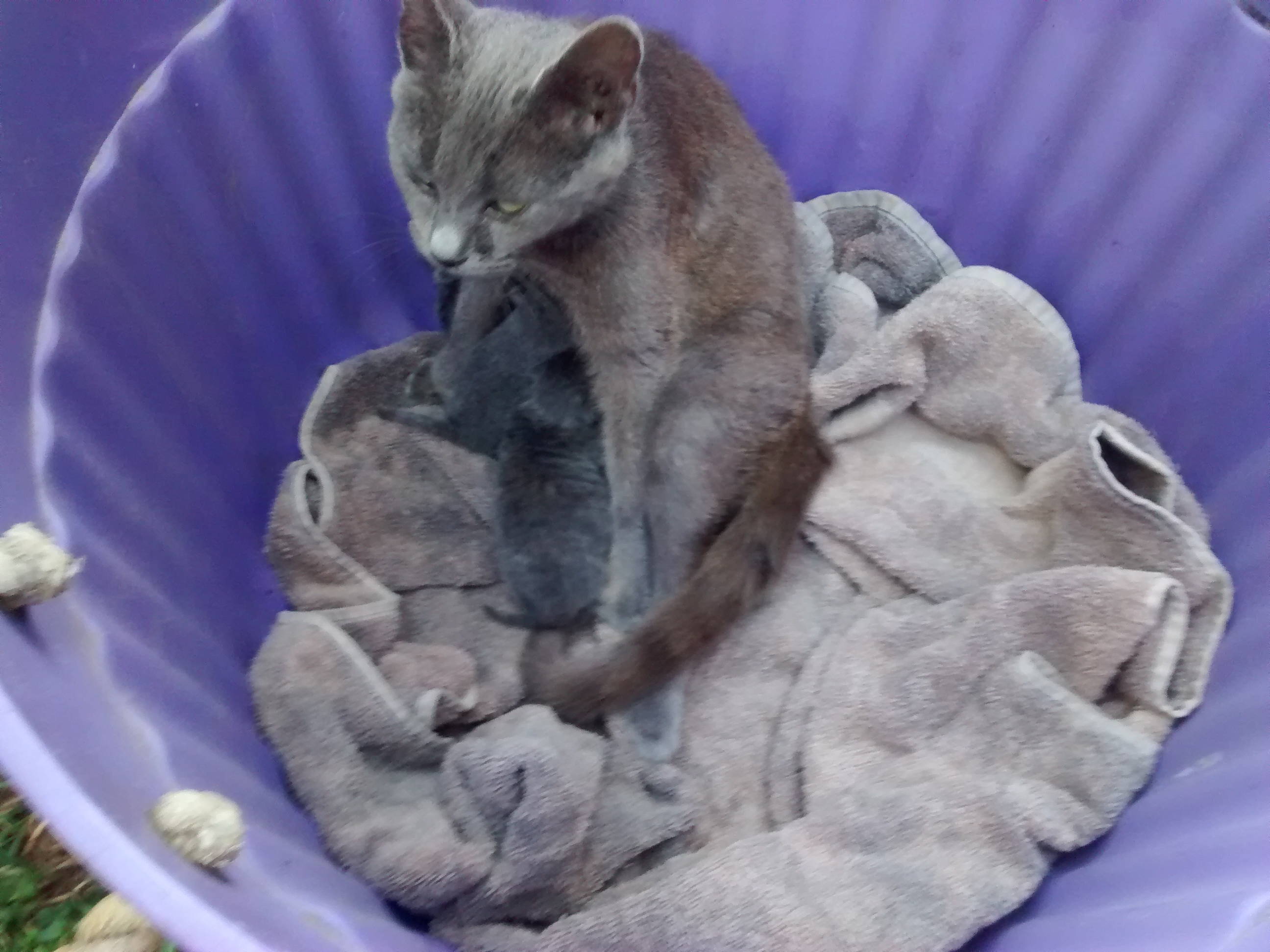 Marion, Ohio
August 3, 2018 7:44pm CST
When I went outside I kept hearing a kitten crying. I looked where the babies are supposed to be and was missing one. I followed the sound and found it in a bucket full of rocks. This did not surprise as mommy cat has always liked laying there. But the bucket is full so the kittens would not stay there and would fall off. I put it back. Next she brought it out and laid down by where hubby and I were sitting. So I got a clothes basket and put them in that as you can see in the picture. That worked for about an hour but they could not stay there as the basket was out in the open. She started trying to take the kittens back to the bucket which I had fixed so she could not. I thinks we came to an agreement of the kittens in a feed pan, under the tilted wheelbarrow, by the bucket of rocks. I will know tomorrow morning for sure. Silly Gray Cat.
5 responses

• United States
4 Aug
Aww, you can't deny the creature comforts of life. If this grey kitty was a little more blue, she'd look just like a cat I had as a child.

• Marion, Ohio
4 Aug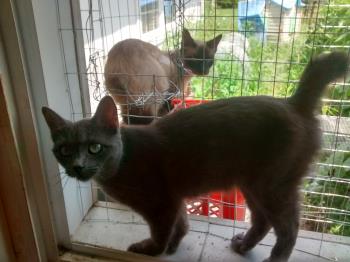 This one is a gray but you might like the color of this girl. She is one of the house cats

• United States
4 Aug
@wolfgirl569
Aw wow she is so pretty! I have to say I am partial to orange tabby's, muted calico's, and grey to black cats. Not that I wouldn't own any cat at all, but those are my favorites.

• United States
4 Aug
@wolfgirl569
Aww. My childhood neighbor had a white cat named fluffy. Fluffy was more ours than theirs though.

• Bunbury, Australia
5 Aug
Mother cats get some really strange ideas sometimes. I hope she settled down in a good spot.

• Marion, Ohio
5 Aug
She has moved them again, this time I dont know where.

• Bunbury, Australia
6 Aug
@wolfgirl569
When our cat had kittens she was desperate to bring them inside. Eventually I made her a nice box in the laundry and she was happy to accept that. Well, I don't know about happy but at least she must have thought it would suffice.

• Marion, Ohio
6 Aug
@JudyEv
This girl has never been in the house and shows no interest in coming in. I have given in a few times when one has asked.

• Los Angeles, California
4 Aug

• Marion, Ohio
4 Aug
This is her first litter so she is learning what to do also,

• Anniston, Alabama
4 Aug
I had a cat that did that once. move them every day

• Marion, Ohio
4 Aug
Often its the first litter that they are bad with. She will learn, I am just hoping I can keep track enough to help keep them safe. I had one that put her kittens in a small dip in the ground once. Looked like it might have been a rabbits nest. That worked great until we got a downpour. She brought me a soaked kitten. Then a second one. I finally got her to let me follow and got the other 3 in and dry. She did learn and never did that again.


• Marion, Ohio
4 Aug
They are worse with first litters. They can get them into some unsafe spots while learning what to do. But this cat is such a love bug that being happy having them beside us was not surprising at all. I just am not staying out there all night.