Do you think customers are always right

August 4, 2018 10:53pm CST
I stopped by the stores late evening to pick up a nice dress for my outing today and met an argument on ground in the store. A lady bought a dress went home with it,after 2 weeks she is back with the dress that she needed to change it that her husband doesn't like the length of the dress so she wants to change it. The reason she gave for the long delay in returning the dress is that she travelled for those two weeks.They seller didn't want to change the dress because of the passage of time. The buyer was of the opinion that the seller doesn't know how to treat customers. That her reason is good enough and okay for change. Now looking at the slogan customers are always right, should that apply in this case? What do you think about that slogan generally? Are you always right as a customer?
10 responses

• Philippines
5 Aug
No. I've worked in retail for a long time and I can say that customers are often wrong.

• Canada
5 Aug
I think in this case the customer is wrong. She could have saved herself and the employee a headache and stress had she taken the dress to a tailor or seamstress for adjustments in the length. I don't believe the customer is always right. That is what they are made to believe so the business can keep a good reputation.


• India
5 Aug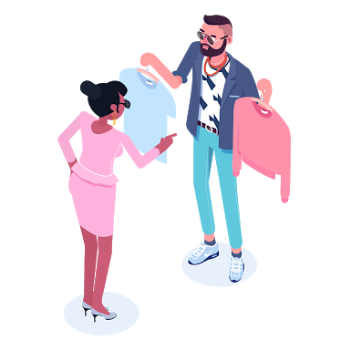 Actually seller should understand customer.Because wearing disliked dress is a loss to customer.Most seller motive is to sell product and earn money.Business mind Will always like that.But good seller also there in real world.We should agree it.

• Canada
5 Aug
In this case the customer had the opportunity to try the dress on "in the store" and get her husband's opinion on it BEFORE she bought it. The fact that she didn't is not the sales person's or customer service's fault. Most retail employees are under the impression that the customer knows what they want before they purchase.


• Indonesia
5 Aug
What happens if the word "always" is replaced with the word "usually"? So from construction: Customers are always right will change to like this: Customers are usually right. Is there a difference? Of course it will be different. If the customer's construction is always right then this implies as well as implying absolute compliance for (the company or customer service) to act like a slave who does not have any rights, dignity, or dignity before his/her master. They must obey and serve all the wishes of their customers. Otherwise they can lose their jobs.

• India
5 Aug
No one can be always right or always wrong. This slogan is to retain the customer .

• United States
5 Aug
@Berrygal
~I have worked in retailing/customer service most of my adult life. The saying is a nice thought but I would say it is more of a guideline, definitely not absolute. Maybe I am to paranoid to seriously consider it as gospel truth. Many people like to take advantage of situations like that.

• United States
5 Aug
@Berrygal
~The human race definitely has far to many unscrupulous people. It is unfortunate that there is always some scumbags out there ready and waiting to take advantage of good natured and caring people who are just trying to be helpful.

• Philippines
5 Aug
2 weeks is too long she should have it changed soon, there's return policy for every shop and i supposed its written on the receipt if the customer read it