My Clutter Clearance Project Day 1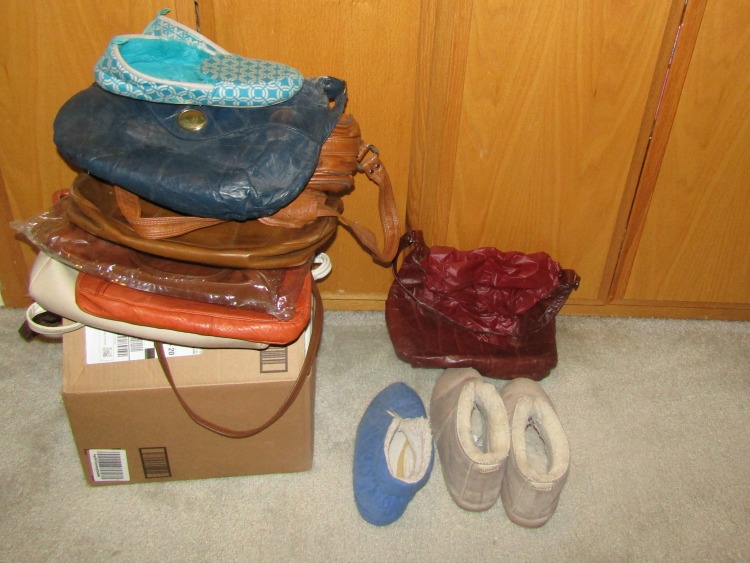 Paso Robles, California
September 13, 2018 4:04am CST
After reading the books about hoarding over the weekend ( one of which was by our own Lori A Moore), I was motivated to be more consistent about clearing the clutter in my own house. My goal for each day but Sunday is to get rid of something in addition to the regular household trash and recycling I do every week. We always throw household trash and materials to be recycled into the bins we put on the curb for collection each Monday. In addition to that, I want to get at least one other large thing out each week or sort a certain area of small things to see what can be discarded or redistributed. Today I attacked my closet and a bathroom drawer. The bathroom drawer was full of small things, most of which was makeup left over from when this was Mom's house. It was easy to just throw most of it away and sort what was still useful to me. I didn't photograph the drawer because I didn't think of it and I didn't photograph the wastebasket I dumped it in, either, before I emptied it into the bin. I tackled only one part of the closet. I wanted to deal with the purse storage unit hanging there. Most of the purses had belonged to either my mother or mother-in-law. I had thought it would be nice to have spares so I wouldn't need to buy new ones if the ones I use most frequently were to wear out. So far, though, I've only used about three of the purses in that storage unit in the past ten years. I cleared out all the purses that really weren't the type I like and would use. Some are going to a thrift shop. I cut the number of purses in half and filled the rest of the unit with the slippers and light shoes that were left after I sorted them. (See below.) They are much easier to find and reach than they were on the closet floor. When I sorted most of my shoes and slippers I knew I could get rid of some of them. They were worn out, so I put those on the small pile on the right side of the photo to toss out. The higher stack on the box (which contains old photo album sheets and some of the purses) will be given to a thrift shop, except the new purse, still in its plastic bag. I will try to sell it. This has barely made a dent in the clutter cleanup facing me, but I will be able to find things more easily in my closet. Everything that I can get rid of will help. I will try to post a progress report here daily unless I'm unable to meet my goal for that day. Reports will be a day late because it takes time to process the photos and write. Is anyone else trying to declutter? It would be nice to know I'm not alone. Our friend Coral Levang used to post here about her decluttering project until she decided to leave myLot. I miss her here.
10 responses

• Pikeville, North Carolina
13 Sep
You have made a good start on clearing your clutter. My wife and I have had an ongoing project to clear the clutter from our house ever since your youngest moved out on his own. We have made some progress but at times it seems more stuff arrives to replace the stuff we discard.

• Paso Robles, California
13 Sep
This is especially true of paper clutter. I no longer go to garage or estate sales unless I'm looking for something specific that I need. I put blinders on for anything I don't. I got pretty good with putting blinders on when I used to attend the Los Angeles Gift show. My time to look as a buyer for a store was limited and so I ignored anything I wasn't specifically looking for, in that case new lines of greeting cards for the store.

• Bunbury, Australia
13 Sep
I had a wonderful time decluttering when Vince went to Nepal last time. I would go through a bathroom drawer then perhaps go through some tiles, then go through my cleaning supplies. This worked better for me than spending the whole time just in the bathroom. I felt so much better when I'd decluttered even though I still have more to do. I intend doing much the same thing when he goes away in a few weeks. Maybe I could post about it here too.

• Paso Robles, California
13 Sep
Does he approve of your decluttering his things? Or is he grateful? Or does he even notice?

• Bunbury, Australia
14 Sep
@bagarad
I did it while he was away as it just seems easier somehow. I can spread things out and don't feel I need to put them away the same day if I don't want to. Not he cares but again it's just easier on my own. I would never throw out his stuff without checking, except for raggedy undies or shirts but I don't think he'd notice either.

• Paso Robles, California
14 Sep
@JudyEv
I agree these major sorting jobs are easier when no one else is home to distract or move things or question things.


• Paso Robles, California
13 Sep
Good! Misery loves company. Although I actually feel pretty good about what I'm doing. It beats looking at the clutter hopelessly.


• Paso Robles, California
14 Sep
Lucky you if you can get it done in a weekend. It may take me the rest of my life.

• Paso Robles, California
16 Sep
@vsai2008
Life does get in the way of our good intentions sometimes. Who wouldn't rather spend time with family than declutter?


• Marion, Ohio
13 Sep
I miss Coral very much too. Hopefully she returns at some time. I decluttered pretty heavy the last couple of years. I am still moving a few things out as I go and get to where I can let go of them. This year I am hoping to heavily sort my Halloween and Christmas stuff as I decorate for each season. So no you are not alone.


• Marion, Ohio
14 Sep
@bagarad
I love decorating so still have that stuff around. But do have some things that I never put out at all.

• Paso Robles, California
14 Sep
@wolfgirl569
I guess after many years our tastes change or when we get old enough and live alone we just downsize.

• Marion, Ohio
14 Sep
@bagarad
I think for my holiday stuff it is my tastes have changed. But somethings will never go anywhere.


•
16 Sep
Aww, you remind me of my stepmom. She has so many stuff in her house that it is hard for us to walk around. I seldom declutter. I am a minimalist. I don't have many things because i notice that when you have a lot of this or of that, it easily gets rotten specially when you don't use it often.

• Paso Robles, California
16 Sep
My mom never accumulated things either. She constantly cleaned things up and was very neat. She couldn't stand clutter. I wish I'd gotten her anti clutter gene, but I didn't. Evidently I didn't get the hoarding gene either, since I love getting rid of what I don't need.

•
17 Sep
@bagarad
that's good to know. So what do you do with those stuff? You just donate, throw or sell?

• Paso Robles, California
21 Sep
@Janet357
I try to donate or sell what's useful and I throw away what isn't.



• Paso Robles, California
13 Sep
I have listed some of my stuff on Facebook buy/sell groups, but most is still here. I may just have to donate it. I hate garage sales because I don't have help and I don't get up early. I usually have lots left over that I still have to dismantle, and I've shot a whole day for a few dollars.

• Paso Robles, California
14 Sep
@rakski
A lot of the thrift shops here are now very fussy about what they take. They don't want electronics and a whole list of other things. Unfortunately some people just load what they don't want and dump it in a deserted place when no one is watching.

• Roseburg, Oregon
21 Sep
I am going to clean out my bookcase next week. I have been just throwing things in there.

• Paso Robles, California
28 Sep
I have six large bookcases in this house and more bookcases than I can count in the other house. Large ones. I also have a 16' x 16' shed that warehouses the rest of my book merchandise inventory. That's a lot to clean out.

• India
14 Sep
I shifted to a new rental home in July. We had so much of all kinds of stuff- it was nightmarish to shift. Yet for almost a month, even though it made us very tired, we de-cluttered a lot. Old books, wrappers, clothes, worn out shoes, papers and lots more. The house gets so much neater and airy with less clutter.

• Paso Robles, California
14 Sep
Getting that space back is what motivates me to keep at it. Either we are advancing or retreating, because more stuff comes in the mail every day that has to be dealt with.

• Canada
13 Sep
Moving half away across the country helped me start my de cluttering. I see to collect. Now the rule is...if one thing comes into the house....at least one thing must go. I cleaned out my parents house....yikes...hoarders...

• Paso Robles, California
13 Sep
I feel for you having to clean a hoarding house. My nephews probably think we are hoarders, but hoarders can't bear throwing things away. I love throwing or giving things away just to clear it out. Now my husband wants us to rent out a room in the other house and it will stall me here to have to start trying to clear out a bedroom there. I don't like renting out rooms to people when I don't live in the house anymore but still have possessions there and have to spend time there.