Decluttering Project, Day 2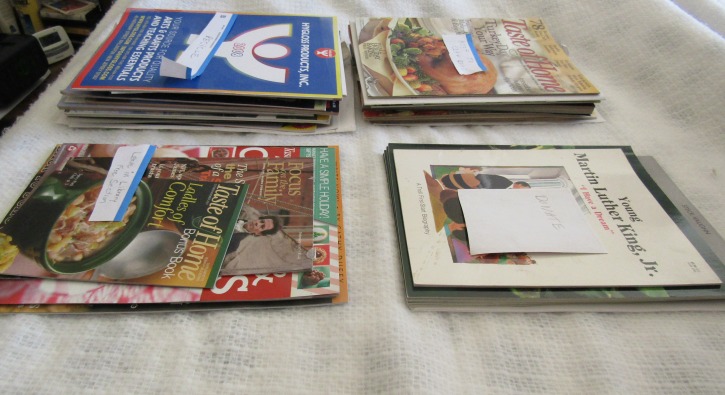 Paso Robles, California
September 14, 2018 12:32am CST
I didn't get much done on this today. But at least I got rid of something. I had a stack of magazines and magazine-size publications on the shelf of the entertainment center I now use as a bookcase. The bookshelves contain mostly merchandise from the old book business. This stack needed to be sorted so I could clear that foot of space. I sorted it on my bed since that was close. It went into four piles, which I labeled. The highest stack, back left, is to be recycled and went into the bin after I took the photo. The second highest stack, back right, has content I want to go through before getting rid of. The stack on the bottom left is to give away. I took one magazine to the hairdresser's shop for others to read. I will take the things of interest to homeschoolers to the library giveaway shelf. The books in the last pile will be donated after I list them for charity, and they went into a box with other books to be listed and given. I had planned to do more today, but I wasn't expecting to get a hair appointment and I went there. Then I took a walk with the hairdresser I wasn't expecting to take and the evening was gone. But I did get some much needed exercise. Although I didn't get rid of much today, I did meet my goal of something leaving the house each day. Has your day gone according to plan?
6 responses

• Bury, England
14 Sep
I know exactly how hard de cluttering can be.We have just moved out so had to get rid of a lot of stuff first. My plan at the moment is the to do one job that needs doing around the house every day.So far I have kept to my plan.Im glad you have as well as it feels great when you complete a big job.

• Paso Robles, California
14 Sep
I don't know if I'll ever complete it before I die, but I sure intend to make a big dent.

• Bury, England
15 Sep
@bagarad
If you do a bit everyday you will get there.

• Paso Robles, California
16 Sep
@sh2ker
I hope I get there before the mortician hauls me away one of these days.I'd like to enjoy the results while I'm still alive.


• Green Bay, Wisconsin
15 Sep
I'm glad you got rid of something and got organized. and a walk and hair appointment in. My day did and didn't go according to plan. I got a lot of work done on my book, but I nibbled too much on dark chocolate chips.

• Green Bay, Wisconsin
16 Sep
@bagarad
They worked against me. I was in a bad way this morning and even last night when I went to bed.

• Paso Robles, California
16 Sep
@just4him
I'm sorry. I'll probably regret what I snacked on tonight, too, when I try to sleep.


• Marion, Ohio
14 Sep
You got something sorted so that is good. You are making me want to start another round of decluttering.

• Paso Robles, California
14 Sep
One way to do that is to stop letting clutter in. Two chairs I had cleared two weeks ago have filled up again, but that's because my husband wanted me to lay something out he wants to take to the other house and hasn't taken yet. When one thing is there, it's easy to keep putting stuff there that you don't have time to put away right away. I know those chairs will still have stuff put on them, but they are easy to tidy when I need to. At least one of them is.

• Marion, Ohio
15 Sep
@bagarad
I moved a card table for that reason. Got tired of seeing it piled up.

• India
14 Sep
You have made a good progress on this painstaking process of de- cluttering your house. Even we sometimes give away old books, and some I give to the ragpicker. Yet there are some old Novels and books which I still keep and some I have read many times over. A side note: I have had been checking your articles on Wikinut(am I correct?) and your blog yet I was not much aware of your presence on mylot. Have a great weekend ahead.

• Paso Robles, California
14 Sep
I didn't know I was still on Wikinut. If you found something there written by me that's still there, could you message me the link? I can't log in with the saved login information and I can't find a record of what it was. They don't recognize either of the email addresses I might have used.

• India
15 Sep
@bagarad
Yes I too could not find in a quick search. May be a detailed search could throw some light.


• Kolkata, India
23 Sep
it is good to get organised every now and then. clears space and makes space for the house.

• Paso Robles, California
25 Sep
I feel better every time something leaves the house or I find a place for something I need to keep so that it will be easy to find when I need it.

• Roseburg, Oregon
21 Sep
Getting a walk was a good thing and getting rid of some stuff was also good.