Understanding the Dangers of Hurricanes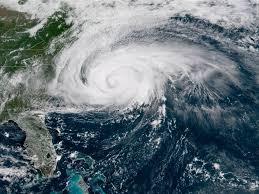 Kingston, Jamaica
September 15, 2018 1:02pm CST
It isn't just the wind, it's the rain. It isn't the speed of the wind, it is the speed of the hurricane itself. It isn't the Category, it's the size. The amount of rain a hurricane dumps can either be run off or flood. The speed of the storm makes a Category Four Hurricane is moving at 20 m/p/h the damage it causes is LESS than a Cat One moving at 8 m/p/h. The faster the storm moves the quicker it goes. When Florence was downgraded a lot of people probably assumed it wasn't going to be that bad. They didn't catch the fact it was moving so slowly that it had time to dump tons of rain on each place in its path. The size of Florence is enormous, so even if one is in an 'outer band' flooding is just as likely.
6 responses

• Canada
15 Sep
Thanks for the insight! People don't seem to understand the damage that any hurricane can do.

• Bucharest, Romania
15 Sep
Are hurricanes frequent where you live?

• Kingston, Jamaica
15 Sep
Gilbert ran across Jamaica fairly quickly. It arrived as Cat 3, and was moving about 30 m/p/h so it hit me about 11 am and was gone from my area about 4 pm. As it was moving pretty fast, there wasn't that much flooding, although there was a lot of destruction.

• Kingston, Jamaica
15 Sep
@Cristi_Ichim
Yes... many don't strike the island, they pass to the South and North. But we've had one nearly every year... but beyond Gilbert, we had Andrew, which wasn't too bad, Ivan, which was pretty bad, Dean which was bad, but a lot of the destruction was limited.


• United Kingdom
15 Sep
With this particular hurricane/storm I certainly think flooding is going to be a big issue especially in low lying coastal areas. Luckily, in the UK, we don't really get any truly bad weather like other places.

• United Kingdom
15 Sep
@tallawah
we just aren't in the area of the world for extreme weather/big natural disasters. Obviously we get localised bad things happen but nothing near the scale of other countries. Last thing big that happened to me was the flood of 2007 when we were without water for a few days...even that was very local.

• Kingston, Jamaica
15 Sep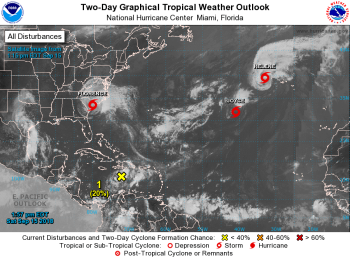 @Mike197602
but as you can see...Helene and Joyce might be paying you a visit


• United States
2 Oct
Hmmm I thought 20 miles per hour was a low estimate as we were getting reports of winds with rain exceeding 70 mph ? Which and when did these shift ?

• United States
2 Oct
@tallawah
a slow moving hurricane will stall out and just sit obviously causing much more damage then one that just blows through

• Kingston, Jamaica
2 Oct
@enlightenedpsych2
exactly. We were lucky when Gilbert ran across the island. The first wind was about 11 am and by 3 pm it was just rain...

•
22 Sep
Your right! A slow moving storm can wreck havoc due to the vast amounts of rain leading to flooding. Nature can be cruel in many ways at times.

• Philippines
16 Sep
That's what happens when we cut most of the Trees that was meant to protect us from floods.

• Bucharest, Romania
15 Sep
Were you ever caught off guard by a hurricane?