Philippians 4 verse 13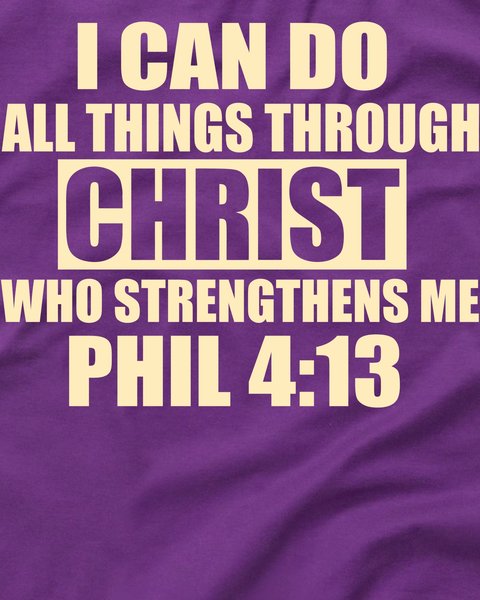 St. George, Bermuda
November 9, 2018 1:57am CST
I have come to the conclusion in life that whatever obstacles I face in Life That I can Overcome and Accomplish all Things Through Jesus Christ Who Strengthens and Empowers Me to Do It. I just want to encourage someone today that whatever it is that you may be facing in life right now that you can make it with Gods Help. Whatever The Problem is Whatever Mountains You Are Facing Right Now. God is Able To See You Through. Just Continue To Trust Him and Draw From His Strength, God tells us that His Strength Is Made Perfect in Our Weakness when we are We Weak God is Strong. Just Continue To Stand In the Strength And Power Of God. Father God In The Name Of Jesus I Lift Up Your People Today I Ask That You Give Them the Strength That they Need to Overcome and Go Forth In You. Help them to Keep there Eyes On You. Help Them To Remember That No Matter What The Situation Looks Like That You Are There Strength Move Amongst Them in A Mighty Way Jesus. Help them to Realize That You Have Everything That Need. In Jesus Name I pray Amen.
7 responses

• Midland, Michigan
9 Nov
Nice exhortation and prayer, Lynn. Isn't it hard to have to capitalize all those words? Unless you're on a PC then I can see it may be easier.

• St. George, Bermuda
10 Nov

• Midland, Michigan
13 Nov
@WritesFromTheHeart71
so doing that helps you see what you've written easier? That looks like a lot of work. If you're using your computer you can change the size of your words here by raising the percentage of zoom, I think it is, on your browser.


• Lagos, Nigeria
9 Nov
I will support my words with Martin Luther king Junior quote which says the ultimate measure of a man is not when he find himself in comfort and convenience but at times of challenges and controversy. you have to system infuse hope that you will over come those obstacle. thanks.


• Redlands, California
25 Nov
As long as you are happy I am happy.

•
12 Nov
Amen!!! That's a really powerful Bible verse. Thank you for the Bible verse, and may God bless you.