First steps in London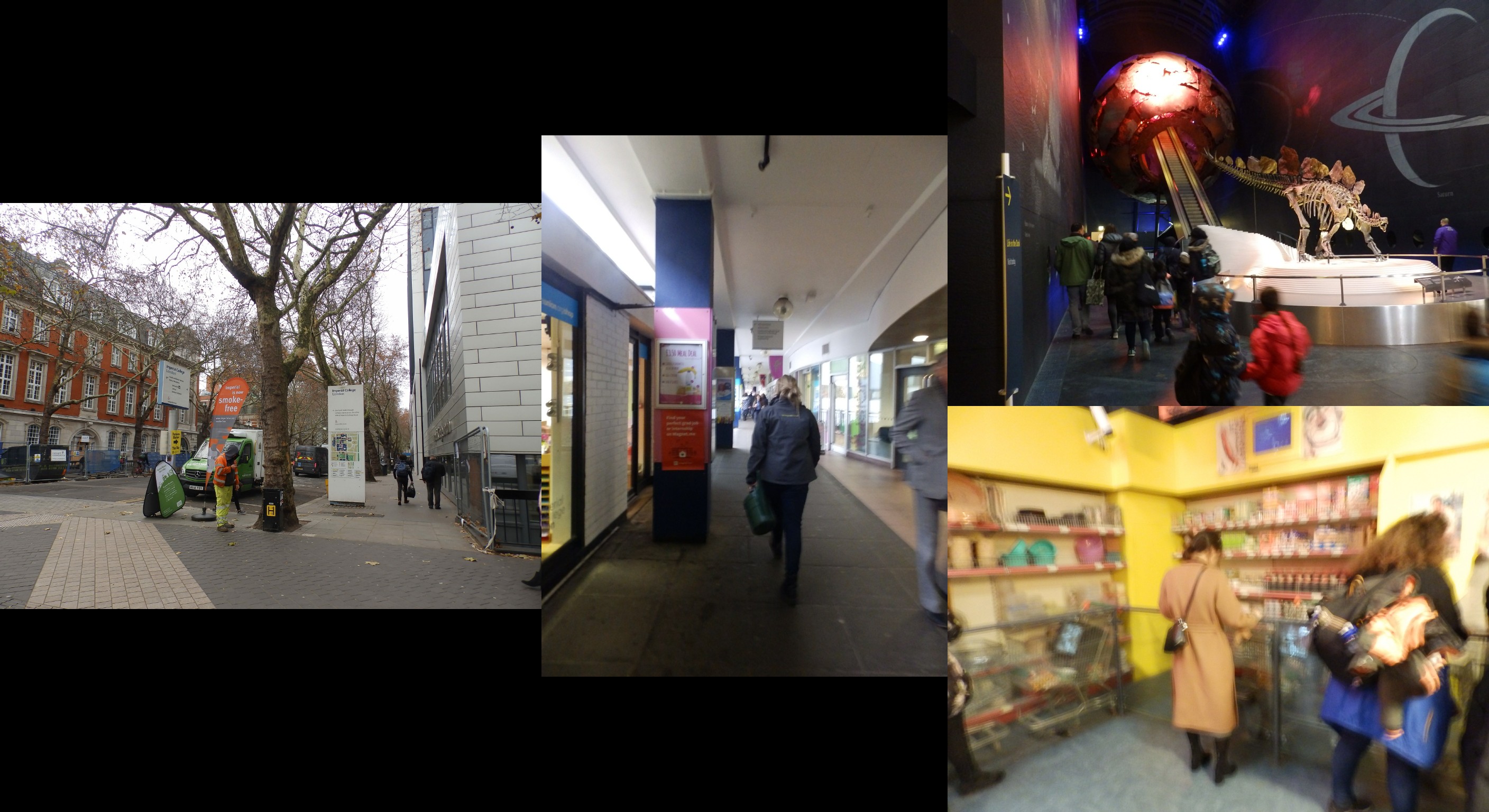 Bandar Lampung, Indonesia
December 5, 2018 10:30am CST
My hotel was not far from the coach station, but the check-in was only at 3pm, and it was only 9am. By chance there was a left luggage desk at the station, I left my suitcase there, and decided to walk to the V&A museum to visit it. I had put all the addresses of the places I wanted to visit on the GPS app of my phone which has a pedestrian mode. Being a pedestrian in London is dangerous. Have you ever tried to put yourself in the shoes of a rabbit living in a hunting reserve and realizing one day that there are hunters out of the reserve ? For a French pedestrian, it is easy : just do a trip to UK. Since the early 1980's pedestrians are a protected species in France. In case of accident with a pedestrian, the driver of a car will always be considered 100% responsible for the accident, even if the pedestrian jumped under the wheels. Stand in front of a pedestrian crossing and you will see the cars stopping to let you cross gently. If they do not stop, they risk a ticket and 6 points less on their driving license. There are only 12 points on a driving license, and since this summer the ticket can be put from a traffic camera : French drivers became suddenly more courteous than ever. A pedestrian is also authorized to cross a street anywhere if there are no pedestrian crossing at less than 50m. Do that in UK, and you will realize what feels the rabbit going out of its reserve : you are no more a protected species but game meat ! You would be considered 100% responsible for the accident, and the hunter would dare to ask money to your heirs if you scratched the paint of the car before giving up the ghost. As a responsible rabbit I have a supplementary civil liability insurance working in foreign countries, it is a good investment when you surf in the streets of London and a great relief to know that my insurance would pay for the paint if I was ran over. With the help of the voice coming from the GPS in the pocket of my shirt I reached my goal in 20mn. The museums are opening only at 10am. The area is full of museums : Natural History, Science museum... And the Imperial College. This one was not exactly a museum, but it was opened, I have the soul of an explorer for colleges, and I wanted to have another coffee. In France, sciences colleges are the less secured, you enter in them like in a public mill, I had to check if it was the same in UK. No security guards at the main door. Ok, I was in a large hall. 2 men in black suits looking like porters behind a desk on the left. Ignore porters and they will ignore you. At the right of the desk, a revolving door and a small door on its right. Some students were taking the small door, which was needing a magnetic card to open, and some others the revolving door, but both doors were opening on the same courtyard. If this was a check point, I understand why they pay us to block their migrants in Calais. I took the revolving door and this time I was really inside. Nice place, nice buildings, well-maintained, but although I roamed a lot, I did not found a coffee machine, only a hall with several restaurants and cafés (sorry, the photo was taken with my phone and is not good, I could not use my regular camera). I doubt that they were accepting tourists with no college ID in these places, so I am not able to tell if the coffee served in English colleges is less horrible than the one served in French colleges. After this visit that I had not scheduled, I did another one that I had also not scheduled. It is reassuring to schedule things, but life would be boring if we were doing only what we scheduled to do. I saw a group of young children with their teachers queuing at the entrance of the Natural History Museum and I remembered that a couple of friends had spoken of a whale to see there. Well, it is a giant museum, and I was not on the right entrance for the whale. There was a dinosaur at this one, with an escalator going to the upper floor through a flashy globe. Wow ! Typical museography of the 1980's, this was interesting ! The design is more sober today, but I believe that those flashy designs were more attractive for children. And the gallery about volcanoes and earthquakes is very good, the best that I have seen on the subject. It is very educational, targeting kids, with some funny things like an earthquake simulator in a Kobe supermarket. It is like the subway, there is an earthquake every 3mn in this supermarket. French National museums are preparing exhibitions for adults, rarely for children, I suppose it is because they get most of their income from the sale of tickets to the adult public. In UK the access to permanent collections is free, the curators may offer more easily something like this. This said, free access means less income, and there is a weird patchwork of museographies in this Natural History museum, from the 19th C to today, testifying of a lack of money. However, the explanations are always accurate (some choices had to be made for complex domains like human evolution where every point could not be discussed) and educational, and there are some attractions to maintain the interest of kids, like a T-Rex roaring in the dinosaurs section. It is an excellent museum. More in the next episode.
6 responses

• Uzbekistan
5 Dec
You have forgotten a vital point in your account as a pedestrian in London, namely that the traffic runs on the wrong side of the street! Where does a Continental European look before crossing a street? To the left, of course. Do that in Great Britain and you 'll be glued to the windshield of an approaching car. Don't argue with a Brit that their way of driving is right. How can driving on the 'left' be 'right'? Nonsense! Only driving on the 'right' is 'right'! Listen to your own language, Brits! I've been to nearly all museums in London over the years, also to the smaller ones. I can recommend a guided tour in the evening. There are many different offers. I've participated in many and have never been disappointed.
London Walks – Guided London Walks – Guided Walking Tours of London –

• Bandar Lampung, Indonesia
5 Dec
I do not know what is the "right" side : our cars are running on the right, but our trains are running on the left in France, except in Alsace

. It is easy to adapt for a car driver, but more difficult for a pedestrian, for sure. The only museum that I found a bit messy was the Science museum not far. It looks like it was conceived long ago like a collection of machines, but it lacks of space between the machines to present something else. Their temporary exhibition room is also not very large. They should find a larger building or remove some machines. Thank you for the link. I will probably go back to London in February, I put that in my bookmarks.

• Uzbekistan
5 Dec
The Science Museum in Munich has a good reputation. It is called 'Deutsches Museum'.

The Deutsches Museum in Munich, a museum of masterpieces in science and technology

• Bandar Lampung, Indonesia
5 Dec
@MALUSE
I was expecting a science museum like yours. In Paris we have the "City of Sciences and Industry", which is a very large museum.
La cité des sciences et de l'industrie est un établissement public de diffusion de la culture scientifique, technique et industrielle située à Paris, La Villette. La Cité propose expositions, films, conférences et animations pour les enfants et leurs famil


• United States
5 Dec
I like those unscheduled squeezed-in adventures . . . that's how we often do it . . . and quite often you're glad you went - fun fun fun. The streets of London sound treacherous

- even here the pedestrian has the right of way. Speaking of your virtual stop in Sri Lanka, our friends are very cautious on Sri Lanka streets. My friend has a energetic daughter - and when they last went when the husband could not go, he insisted that his wife have a strong grip on their daughter's hand when walking around. I am told that there are less rules about driving there - and sometimes you would even find cars over the sidewalks

! Walking civilians beware. I don't know why I love exploring colleges too - in most cases colleges are a world/culture of it's own. I try to eat outside the colleges here . . . everything on campus seems overpriced. The public colleges out here are open - anyone can take a stroll through it at anytime. There was one private art school out here that wouldn't allow visitors unless there was an appointment for a tour - that was the first time I was ever stopped. Natural history museums are awesome! I'll have to see the website to the one you went to. A lot of those educational type museums out here do cater to children - if the children want to come, the parents will take them - lots of money to be made there. There are free days - once per month but maybe not in summer - and we try to take advantage of those days - but it's crazy crowded as you can imagine. Sometimes it is worth going on a regular admission day when you can focus and enjoy the exhibits. You had such an exciting time "unscheduled" - wow, I wonder what your scheduled time was like

!

• Bandar Lampung, Indonesia
5 Dec
The pedestrian has a right of way on pedestrian crossings when the light is green for pedestrians, the rest of the time, the car is the king. What makes things more difficult is that they drive on the left of the road, so you should better look on your right first before crossing. Campus are reserved to students and the staff in France and UK. You enter easily in those out of cities, but not easily in those inside cities. In France the police is not authorized to enter in a campus, they have their own security and regulations. As I told you, college studies are free in France, and the state pays also partly for the food served by college restaurants. Students pay about $5 for a full meal and members of the staff about $15, and you need a college ID to pay. They are the cheaper restaurants in France, but I would not recommend them

. It was amazing to visit Imperial College. The free day for museums in France is the first Sunday of the month, but often not during summer (for Le Louvre it is only from November to March), and big museums are also crowded this day. In UK, only temporary exhibitions are paying, and not always : I saw a nice free exhibition of the portraits of Lorenzo Lotto at the National Gallery which was organized with the Prado museum.

• Pamplona, Spain
6 Dec
Apart from the crossing the road thing glad you seem to have had a good time seeing a lot of things. I cross the roads here but still with the how we learned to cross the road at school in England and so I look both ways both times its a habit that is hard to break.

• Bandar Lampung, Indonesia
6 Dec
Yes, I enjoyed this trip, and I want to go again to London next February

. The free entrance to museums is cool and people are nice. Except drivers

. I was a bit afraid to meet xenophobic Brexiteers, but no, not in London. I will post a last discussion about this trip, to not bore mylotters with my memories.

• Pamplona, Spain
7 Dec
@topffer
Most Londoners are cool and can go out of their way to help you. Be careful if you cross the road in Spain as they are not the same as in France. Glad you had a good time tops. I love London and there is so much to see. One of my Sister in Laws is from there a true Cockney born within the sound of Bow Bells as the tradition states. I can also imitate her accent and I have a friend from there too and she edged me on to keep imitating her accent and making her laugh she said I did that very well. Alright love? Yeah I´m alright.





• Bandar Lampung, Indonesia
7 Dec
@lovinangelsinstead21
I would not try to imitate the Parisian accent

. Now that housing is very expensive in Paris, the working-class accent tends to disappear in Paris, but is still present in the suburbs. A singer like Maurice Chevalier had a very strong Parisian accent. I have a light Southern accent, but I live in a city having a "pure" French accent (the "pure" French accent is found not in Paris but in a few cities in Western France), they all speak like tv presenters here

. I have not had problems with the way people are driving in Madrid, they respect more people than drivers in London. I had a look to the stats : 13 pedestrians, all being more than 60 years old were killed in Paris last year, against 73 in London.


• Bunbury, Australia
6 Dec
Traipsing around France we chanced upon some great attractions which we'd never heard about. There is a lot to be said for going down different roads and seeing what turns up.

• Bunbury, Australia
6 Dec
@topffer
We are coming again in May next year but I haven't written about it yet. We're hiring a boat for about ten days on the Loire Canal with three other couples. I can almost taste the baguettes.



• Bekasi, Indonesia
9 Dec
I think in France there are many interesting shows

• Preston, England
6 Dec
hope your adventures in London go well - the Underground is the best way round the city - get an Oyster Card (at any shop or manned station) as that can cut the costs down for you