No Lobster for Me, Thank You...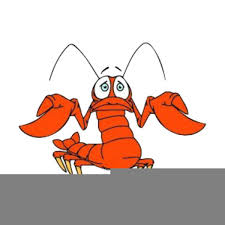 Saco, Maine
December 6, 2018 8:02am CST
The state of Maine (USA) has long been known for its abundance of lobster. In fact, the crustacean is so popular that we can even buy a license plate for our cars with its image on it. People flock here in the summer to buy the stuff, and they are happy to sit there in restaurants in full view of the rest of the world wearing big gaudy bibs and wielding nutcrackers with which to open the creature's claws to achieve what appears to be for some people nothing short of an orgasmic moment. And it doesn't stop there. Listening to lobster lovers talking about their favorite food can be just as disgusting as watching them consume it. The "ohmigods" abound, and if you happen to be one of those people who, like me, does not care for it, you need to be ready to be stared at as if you have lost your mind or never had one to begin with. "What, you don't like lobster? Are you crazy?" Well, I must be, because I've never been able to figure out just what it is that makes others so crazy about eating it. All that said, one of the reasons I've never relished the thought of sitting there dissecting an animal in order to eat it is the fact that, to get it to that point, the lobster must first be boiled alive. The one time I did try it, I found it a bit too rubbery for my tastes. Of course, someone then felt the need to pipe up and say, "Oh, it sounds like it wasn't cooked right." I think I remember yawning right after that statement was made. In any case, there seems to be a new way now to get the lobster ready for the table, and it's no less revolting than the thought of plunging it into scalding hot water. This "new way" involves taking a large and very sharp knife, holding the struggling animal down on a cutting board, and slicing through its shell from head to tail. Or is it tail to head? I'm not sure. But according to at least one TV chef, Ming Tsai, of "Simply Ming," this "kills the lobster instantly." Um, not quite. When I saw Ming do it on his show recently, that lobster's claws were still moving AFTER he had cut the animal in half. So that did it for me. Up until that point, I'd been considering buying a lobster roll, which is another very popular way people enjoy it here in Maine. Now, I'm not so sure I still want to. And considering my recent experience eating turkey while a wild turkey watched me through the window, it may be time to explore vegetarianism. But then again, have you ever seen someone yanking onions out of the ground and chopping them all up and then throwing them into hot olive oil? Or hacking the tops off carrots to get them ready for boiling? Please, someone, tell me that doesn't hurt! Otherwise, I will be reduced to eating NOTHING! (Public Domain Image)
8 responses

• United States
6 Dec
I have lost my fond of lobster.

• United States
6 Dec
I'm allergic to seafood, so it's off limits for me.

• Saco, Maine
6 Dec
My late partner was, too. He could not eat it.

• United States
7 Dec
@FourWalls
me too.plus they look like a gigantic bug.yuck.

• United States
7 Dec
@scarlet_woman
-- that's true as well. What inspired the first person to
eat
lobster to do it? Yuck!

•
9 Dec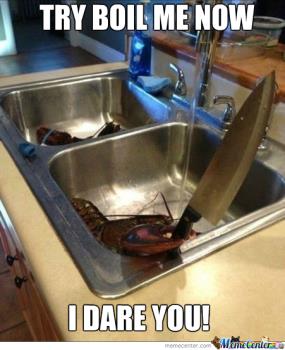 Very nice write up and you express your viewpoints against lobster eating in a humorous and informative way. I love lobster myself and if I could afford it I would eat it more often, but alas, it is a delicacy for me, eaten on a very special occasion unless stuffed in some other seafood/soup. I guess I need to move to Maine to develop an appreciation for hating it so... After reading the responses I guess I am the contrary one.

• Saco, Maine
10 Dec
Oh, now that photo fits my theme perfectly. Wish I'd found that one to use instead! I keep saying I'll give lobster another chance someday. The one time I tried it, I found it rubbery and not the big deal everyone said it was. My cousin's son owns and operates a small neighborhood store not far from here, and he sells lobster rolls, which many people claim are the best around. But they're not cheap, so I'd hate to buy one and then end up not liking it. So I'm trying to figure out a way to do that when I'm with someone who would eat my leftovers!


•
11 Dec
@Raelove
Glad you enjoyed the photo

And yes your right, lobster is expensive, lol.

• United States
6 Dec
Lobster was the poor man's food long ago, and there was so much of it that servants, animals, prisoners and indentured servants were fed lobster. Oh well, due to not wanting to be a party to the pain, I do not eat meat or fish, so no lobster for me.


• Saco, Maine
7 Dec
Here in Maine, there was a time centuries ago when lobsters would actually come out of the water by the hundreds and crawl up onto the sand. So yes, they were readily available to the Native American tribes that settled here. Ironic that now, there is a whole industry built on it with much hard labor involved. Might the lobsters have decided it was smarter NOT to walk out onto the sand?


• United States
7 Dec
@Raelove
I do believe the lobsters were told by other lobsters to stay in the water!



• Bunbury, Australia
7 Dec
And the way chooks (chickens) cackle after they lay an egg doesn't say much for that experience either!


• Saco, Maine
7 Dec
No, it does not! I am starting to think that, where food is concerned at least, there is no pleasure without a little pain.


• United States
6 Dec
A very interesting and funny post! I don't like lobster, either. But I do love those onions and carrots.


• Saco, Maine
6 Dec
So do I. I hope they don't feel pain when we chop them up and cook them!

• Lenox, Georgia
6 Dec
I don't eat seafood of any kind and I try not to think about what the animals go through while eating. Since I have been truly hungry before for days starving isn't an a good option either.

• Saco, Maine
6 Dec
No, it is not. We have to make a compromise somewhere!