This weekend is Christmas ravioli day!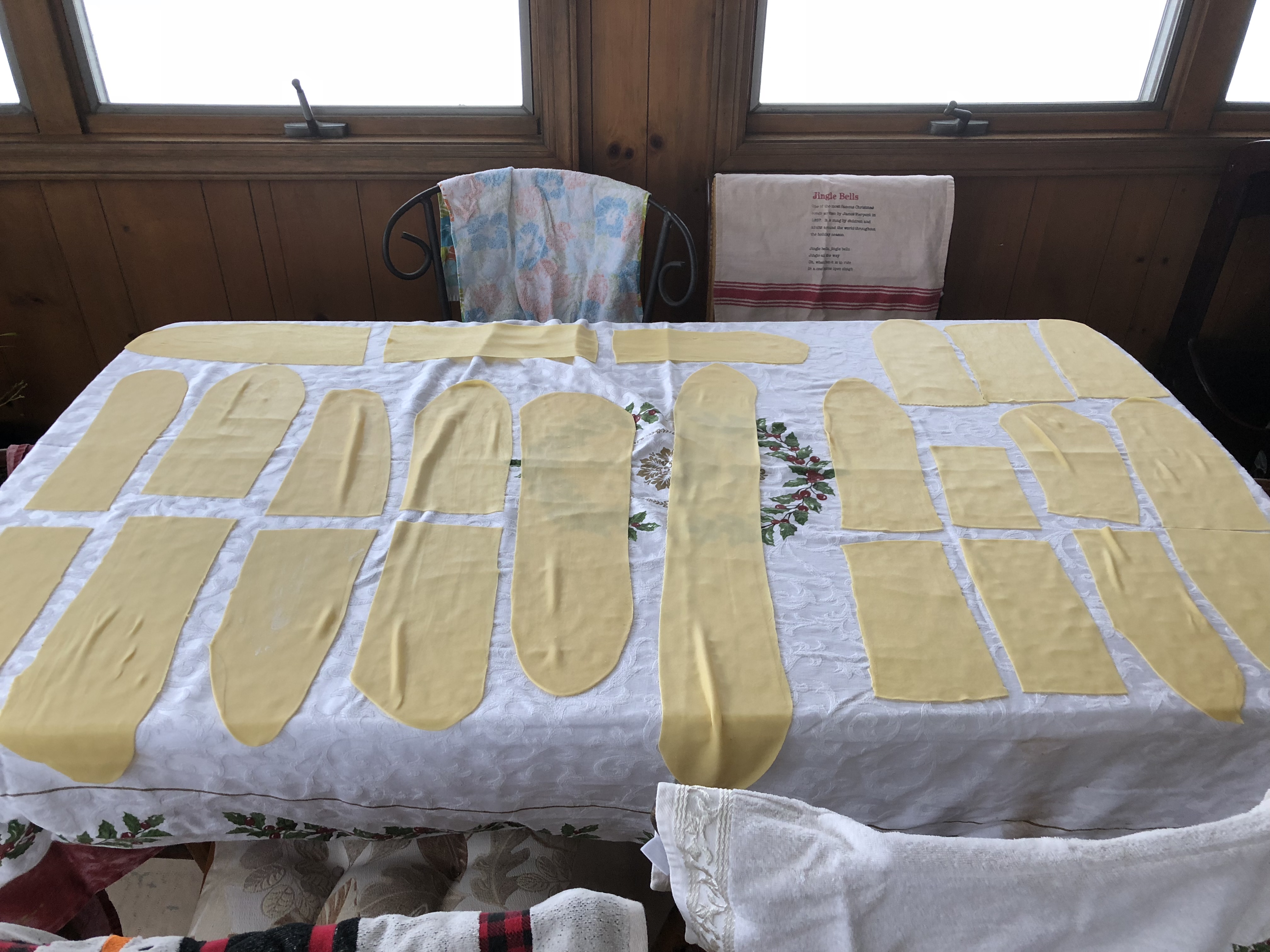 United States
December 6, 2018 5:43pm CST
My family is Italian and every year we eat homemade spinach-ricotta ravioli for our Christmas dinner. That means that we have to spend a Saturday in December making them. It used to be a huge ordeal of back-breaking work for everyone involved but these days with the KitchenAid and the pasta-roller attachment, it isn't nearly as difficult as it used to be. My mom, aunt, sister, cousins, my cousin's wife, my friend, and myself all get together and we are able to bang out like 700-800 ravioli in just a few hours. Then we make fettuccine and also use the scraps from the ravioli trimmings and we have a fresh pasta dinner. It is a fun and delicious tradition. I told my sister that I would make and bring an appetizer and a dessert since she was feeling overwhelmed with the hosting this year. I forgot that we also all agreed to do a cookie exchange too so I need to make 4 dozen cookies too. Of course I have none of the stuff needed to do any of this in the house at the moment so I will be a very busy bee tomorrow after work. I will go straight to the grocery store at 2 pm to buy everything and then I will come home and proceed to make the cookies (Mexican wedding cookies aka "walnut balls"), the dessert (I'm thinking Milk Bar's Crack Pie), and the appetizer (chili dip). I'm already feeling anxious just thinking about all that I have to do. If it gets to be too much I can always skip the gym on Saturday morning and do the cookies then. Or I can just skip the cookies since I honestly won't be taking any from the exchange anyway. *deep breath*



9 responses

• East Tawas, Michigan
7 Dec
I use to bake cookies, every week. My daycare kids, my own two kids and their friends, would quickly make them vanish into thin air

Homemade ravioli, that's an art in itself! My mother and grandmother use to make homemade egg noodles/sauerkraut. You guessed it, they were from German descent(Prussia). Their coffee cakes were like pictures in a Woman's Day magazine!

• United States
7 Dec
My sister, cousin, mother/father, and aunt/uncle all learned how to make fresh pasta and homemade ravioli by hand from my Italian grandmother and her sisters. My sister, cousin, and I have been doing it since we were big enough to sit at the kitchen table. They used to use the hand-cranked pasta machine but these days the KitchenAid and pasta roller attachment is so much better! I sometimes make homemade ravioli or fresh pasta/lasagna sheets myself. If I know we are going to get snowed in, that is usually a pasta-making day for me. We always do the Christmas ravioli each December though. That's non-negotiable.

• East Tawas, Michigan
7 Dec
@NJChicaa
What a wonderful family tradition, I love it!:)

• United States
6 Dec
Wow Oh Wow, that is a lot of work ahead of you. For the past three years, I've been getting together with two of my friends and parts of their family and we've made cookies. I even made potato candy one year, though I might make mints this year instead of potato candy. I've got to start getting the stuff together that I'll be bringing. We make A LOT of cookies.


• United States
7 Dec
@NJChicaa
I don't think I'd want to do much if I had to work until 6 and then get home and take care of it. I'd be more worried about what to feed myself and forget starting holiday meal prep.

• United States
7 Dec


• Los Angeles, California
7 Dec
I am sure will be up to the challenge.

• Lenox, Georgia
6 Dec
Oh wow I'm tired just reading all of that!

I hope you don't get overwhelmed and enjoy it. =)

• United States
7 Dec
Sounds like a fun tradition for everyone to get together to make the ravioli. I never attempted to make homemade pasta but I do love any kind of pasta. Hope your deep breath helps and you get everything done that needs doing.

• Green Bay, Wisconsin
7 Dec
You have a lot of baking to do in a very short time. You'll get it done.

•
7 Dec
It doesn't feel like Christmas if we don't do such traditional things.

• Moses Lake, Washington
7 Dec
I'll be knocking on your door shortly. Thanks for the invite.