Return of the Arabian Oryx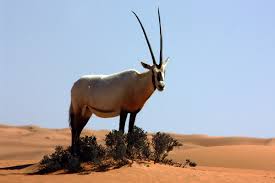 Daytona Beach, Florida
December 6, 2018 9:56pm CST
Most of you probably never heard of the Arabian Oryx. This is a kind of desert antelope that is making a comeback in the Middle East. Unfortunately, during the early 1970s, it looked like one hunter too many had shot down these animals and they became extinct. Some did survive and lived in captivity. Then conservationists in Jordan worked out a huge breeding program and the lovely Arabian Oryx could once again be reintroduced to the Arabian Peninsula. There are now more than 1000 roaming free and around 7000 in captivity.
10 responses

• Los Angeles, California
7 Dec
A similar story to the American bison.

• Ft. Lauderdale, Florida
8 Dec
John didn't Ted Turner start breeding them years ago and had done a tremendous job of bringing them back?

• United States
8 Dec
@GreatMartin
Yeah. He's got a butcher shop right down the street from his house.


• Canada
8 Dec
I love that they were successful to bring the Arabian Oryx back. it is a beautiful animal. I've never seen one but the photo is lovely.


• Ft. Lauderdale, Florida
8 Dec
Too many species of animals are being made extinct by man!!


• Green Bay, Wisconsin
7 Dec
That's good they've made a comeback.

• Croatia (Hrvatska)
7 Dec
It was a good move and a good program.

• Bunbury, Australia
7 Dec
That's such a feel-good outcome that such a lovely animal has come back from the brink of extintion.

• Banks, Oregon
7 Dec
Love the Oryx they are very beautiful and, cool animals.

• Marion, Ohio
7 Dec
Glad they were able to save them.