First Impressions: Silk Hope, NC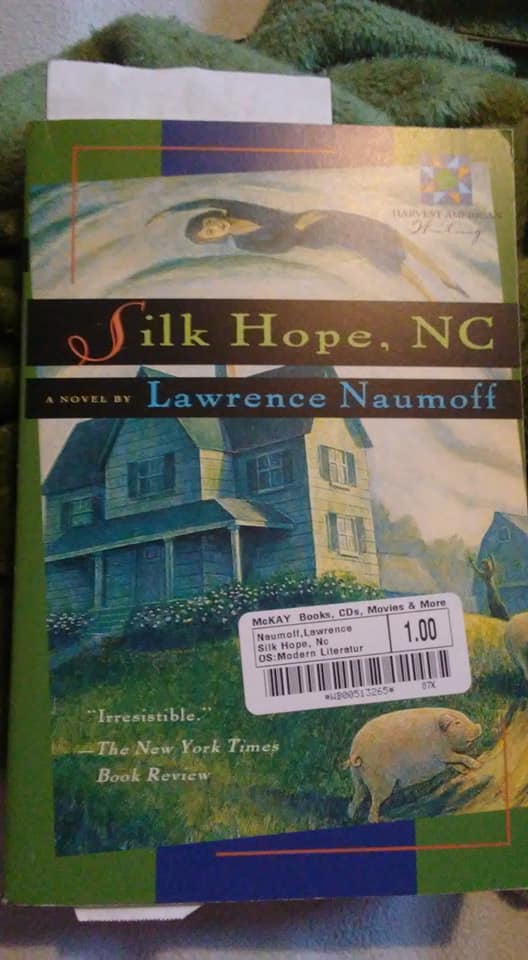 United States
February 8, 2019 5:42pm CST
I am about 125 pages into a 352 page book. I wasn't sure how I wanted to go about writing this discussion. I was originally going to just write a discussion about one of the quotes I like from the book. I haven't recorded any quotes in my quote diary, but I might. My Impressions on : Frannie is a young woman lost in a dream world. The book opens to her running away from a man she had been with the night before. Her sister and that sister's boyfriend are out looking for her. She had been gone for three days. Natalie is the sister and from the start, I am not too impressed with her. I guess I relate more to Frannie than I do Natalie. Frannie is a free spirit, a dreamer, just like I am. Natalie is more practical, more logical. Jake is Natalie's boyfriend. I wasn't sure what to think of him at first but then I've discovered that things are not what they seem with him. It is yet to be determined what happens with him, but I do believe he's trying to pull one over on the girls. The girls have just inherited an old farm house on 12 acres of land. It was their mothers before them, and her mothers before that. It is a home passed down only to the females in the family. This is a wonderful book and I do think I am going to like it. I think "the other show" will eventually drop. I've been told this was made into a movie, I've never read the book before or heard of the movie. Silk Hope, is an actual place here in NC. We have a member here that does not live very far from this place, if I am not mistaken. I am about two hours away - give or take. Have you read this?
6 responses


• United States
9 Feb
No, definitely not a common practice. I believe the story is purely fictional. The current generations great grandmother or great great grandmohter had been tricked by a man. Her daughter was the one that decided to start the practice of passing the family home down to the ladies. It used to be a vast property but is not only down to 12 acres. Silk Hope, NC is an actual place though.

• Switzerland
9 Feb

• United States
9 Feb
@LadyDuck
It may be based on a property that does exist. I think that Silk Hope, NC is more rural then this book infers. I will be reading more of it after I've mylotted for awhile.


• United States
9 Feb
No I haven't, it's been a long time since I have read any books.

• United States
9 Feb
Life gets in the way of reading sometimes. I also get where I just don't want to read. I usually watch more t..v in the colder months, for instance.

• United States
9 Feb
@ScribbledAdNauseum
yes it does seem to get in the way, I really need to start again but I'm just not in the mood like I used to be.

• United States
9 Feb
@hillhjill
That is understandable. I feel that way about watching television a lot of times. Sometimes I will put down a book and not pick it back up for a few months as well, it just depends. Here lately though, books have helped me cope with anxiety and stress. The added bonus is that I get to talk about it with other 'lotters.


• Zagreb, Croatia (Hrvatska)
9 Feb
Seems interesting this far. It's not a teenage book, right?

• United States
9 Feb
It might be considered a young adult book. Teenagers might like it as well, I'm not sure. There are some young adult books I like and I am not a young adult anymore!

• Zagreb, Croatia (Hrvatska)
10 Feb
@ScribbledAdNauseum
I see. Oh, those labels. I'm not as well


• United States
10 Feb
@moonandstars
I agree, they are just labels, aren't they? We can read whatever makes us happy.


• United States
12 Feb
no.but it sounds good. Right now I'm listening to A Swiftly Tilting Planet. It's the third book of the Time Quinet book series (A Wrinkle in Time book series). Also the second Mary Poppins book (audiobook) came available a few mins ago.

• United States
13 Feb
You listen to these on audible?

• United States
15 Feb
@JESSY3236
Oh okay, cool. I haven't been to our local library. Your in NC? I am.

• United States
15 Feb
@ScribbledAdNauseum
yes. I live in Gastonia, NC. You don't need to go to the local library to do the NC Digital Library. Just need a library card.


• Nairobi, Kenya
8 Feb
Have not read it but it sounds like it can make a god drama movie

• United States
8 Feb
Yes. I think it would make a good movie, but I would not watch it. I dont' watch movies when I've read the book and vice versa. I am hoping Frannie finds love, and I do think she might, but I"m not sure.

• Nairobi, Kenya
8 Feb

• United States
9 Feb
@Missmwngi
I have an idea of the characters in my head, if I watch the movie or t.v. show after reading the book, my perception of them is changed. I don't like that.

• United States
8 Feb
I wish you luck, reading many more.

• United States
9 Feb
That is my plan, to read a lot this year. I will keep track of them on GoodReads as well.

• United States
9 Feb