Do you think having an aquarium and cats in the same house is a good idea?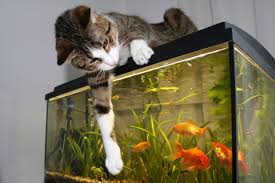 India
February 10, 2019 9:28am CST
For the last few days, I have been thinking of buying an aquarium. When I discussed the same with my friend, she said she would also get one after me. She wants to see how I take care and then buy one. She has 3 pet cats in her house and 2 dogs. She is a pet lover and also has a huge house where all pets stay happily. I was just wondering, if having cats and fishes in the same house is a good idea. I know cats won't jump into the aquarium and eat the fishes, but still.. I don't know. What do you think? Picture is taken from google images.
10 responses

• United States
10 Feb
A Cat can get one if given the chance, but not if you have a good lid.

• United States
10 Feb
@Sheali
No but my Grandma used too.

• Caracas, Venezuela
10 Feb
I say if its affordable to have an aquarium, and feeding your cat too, I say why not? Just make sure to cover up the aquarium so the cat does not jump over it to eat the fishes.

• Caracas, Venezuela
11 Feb
@Sheali
anytime. I used to have a fishbowl, and that is what I did. To cover up the fish bowl.

• Philippines
10 Feb
That might cause accident inside the house. If the aquarium is placed somewhere safe, it is okay to have both.



• Perth, Australia
12 Feb
@Sheali
I think it depends on the size of the aquarium. If it's a big one with a good lid, I think that should be fine.



• United States
10 Feb
why not.I know many that do

• Los Angeles, California
10 Feb
An aquarium will amuse cats.

•
1h
@Sheali
My ex when we were married had an aquarium in our home and he did not cover it so my cat climbed in and ate the fish. So do not have a an aquarium in your home if you have cats. I love animals.