The One And Only PIG MUSEUM Of The World !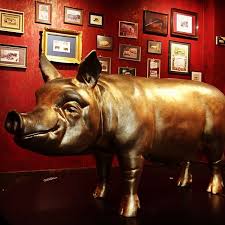 Uzbekistan
February 11, 2019 2:53pm CST
Follow me to a museum which is truly unique in all aspects, namely the one and only Pig Museum world-wide. "I like pigs. Dogs look up to us, cats look down on us, only pigs treat us as equals." (Winston Churchill) Private collector Erika Wilhelmer found a home for her collection of pigs and pig related paraphernalia which couldn't be more appropriate: the art deco building formerly used for the administration of the slaughterhouse (German: Schlachthof) in Stuttgart, Schlachthofstraße 2 (Slaughter House Street). The ambience couldn't be better. The ground floor is the more serious one so-to-speak, lots of information is waiting to be looked at and read. Loud grunts come out of a loudspeaker. On the walls hang photos with hundreds of black frames of extinct or endangered pig breeds. You also meet the 'German Large White' on a rotating stage, the flagship of the international pig industry so-to-speak. A variety of jobs based on pigs is introduced such as hunter, breeder, butcher, medical researcher, salesman. Walking on we learn that the pig is the animal best adapted for engrafts. Valves from pigs' hearts can be transplanted into humans. 'The Global Pig' gives information about breeding pigs worldwide. The Chinese have 490 million pigs and with this nearly half of all the pigs of the world. In Afghanistan there is only one pig. More pigs than people live in Denmark. The Spaniards eat more pork than the Germans. Up the staircase to the second floor. The whole museum is bilingual, all explanations are given in German and English. There are more pig/swine/sow/hog related expressions in German than in English, so not everything can be translated literally. German terms are positive as well as negative. 'Sow' can be put in front of nouns and adjectives in colloquial speech. In the south of Germany 'sow-good' is an extremely positive adjective, only topped by 'sow-smooth'. 'Sow-weather' is negative all over the country. If you want to express your deep felt sympathy with someone's plight, you can address them as, "You poor pig". What the visitor finds on the first floor makes the mind boggle. Kitsch in its purest form! In one room stand several glass containers in which you can find hundreds of pigs of all sizes and materials sorted by colour. In another room pigs are sorted by material. Then the huge collection of piggy-banks from all over the world! Show-cases in the corridor contain a pig orchestra made of fine porcelain or figurines and paintings showing pigs in the rôle of famous art characters (the Mona Lisa!), mythological pigs, Balinese pig masks, pig dolls in traditional ethnic costumes, pig couples in gondolas on the Grand Canal in Venice, pigs as decoration on kitchen utensils, pig families on the beach and, and, and. "There is no such thing which cannot be transformed into the shape of a pig." And then there is the small room with dark red walls. A large painting in fifty shades of pink (!) shows a voluptuous sow in sexy lingerie lolling on a sofa, one of her gigantic buttocks curving towards the onlooker's eye. "Pigs are very beautiful animals...There is no point of view from which a really corpulent pig is not full of sumptuous and satisfying curves." G.K. Chesterton How many exhibits are there at all? I've found different numbers on the net: 30.000, 37.000 and 42.000. The ticket sales woman even said 46.000. Who cares? In any case every visitor will find enough to amuse themselves. Recommended. Oink. Oink.
10 responses

• United States
11 Feb
I would love to go to that museum! It's hilarious. But if you said to someone in the US, "You poor pig", you'd probably leave with a black eye!

• United States
11 Feb
@MALUSE
Isn't it funny how words and expressions can be so different around the world?

• Uzbekistan
11 Feb
@1creekgirl
This is also true for gestures which can be seen as a compliment in one country and an insult in another.

• Bunbury, Australia
11 Feb
I would be like a pig in straw in this museum. I'd love it!



• United States
12 Feb
That really is the perfect place for a museum! I would love to see the information about extinct pig breeds and the fifty shades of pink painting. The piggy bank collection sounds neat.


• North Myrtle Beach, South Carolina
11 Feb
That sounds very interesting! I never would have dreamed up such a thing. Pigs are really intelligent, contrary to what most people think.

• Switzerland
12 Feb
This an interesting museum. It is true that pig is the animal best adapted for engrafts, we should be grateful for this. Saying to an Italian "you are a pig" is not very nice, but many men who insist too much to get attention from a woman hear this phrase.


• Canada
12 Feb
My sister loved pigs and she had shelves and shelves of them. When she passed, we all got to choose the ones we wanted. Mine are two tiny ones about the size of the tip of your finger. I chose them because they were so incredibly unique.


• Nairobi, Kenya
11 Feb
Waoooh never heard of a pig museum;thats interesting