Not to Stick My Nose Up Your Butt, But....

United States
February 19, 2019 7:39pm CST
Amid all the relatively good news at the doctor today there was one drawback: I have to schedule my colonoscopy. Now, I'm not one who likes to stick my nose up your butt, but..... If you're over 50, please get one. The worst thing about it is the prep, which isn't so bad anymore now that you don't have to guzzle that goop you used to have to drink. Now (or the last time I had mine) it's a whole lot of Miralax in half a gallon of Gatorade, and you're good to go. And go. And go. AND go. It's a day of inconvenience, but it's much, much better and easier than dealing with colon cancer. Found this cute CCR parody on You Tube, which pretty much explains everything (including the flatulence):

Time for your colonoscopy? Got a friend turning fifty? Take a "wild ride on a flying scope" with this digestive ditty sure to make your toes and bowels move!...
10 responses

• Los Angeles, California
20 Feb

• Los Angeles, California
20 Feb

• United States
20 Feb
@JohnRoberts
— I will be after the prep, that's for dang sure!


•
20 Feb
Yep, getting through the prep is the worst of it! Colonoscopy's are sure a pain in the butt (thank goodness not literally).

Great song, CCR kicks butt


• United States
20 Feb
I see what you did there!!!!


•
22 Feb
@FourWalls
My warped sense of humor strikes again.



• Redlands, California
20 Feb
This one made me laugh, nicely done on an important issue. I am holding back because I do not think mylot could take my twisted thoughts on how I would go about flushing out my system.


• United States
20 Feb
Personally, I'd prefer a Taco Bell dinner to the Miralax, but.....


• Redlands, California
20 Feb
@FourWalls
Sounds easier, think I will scrap my idea and go with yours. Are you feeling hungry?



• United States
20 Feb
Good. That'll give you time to clean all the polyps on those records you just bought!

• Olney, Illinois
20 Feb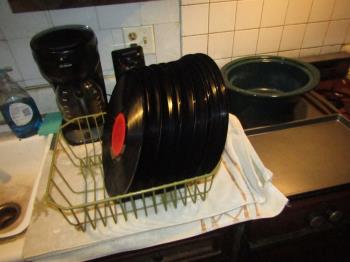 @FourWalls
I'm about 1/3 of the way through...but I've been doing the easy ones first


• United States
20 Feb
Is that to say we get used to them?


The prep isn't nearly as bad as it used to be. That goop the first time I had one (at 40 because of the family history) was just
awful.

• Bunbury, Australia
21 Feb
My husband has these regularly and you are so right. He really doesn't find it a big deal. However no-one has suggested I need one - yet.

• United States
21 Feb
after they gutted/reconstructed my chest,then the hysterectomy,i was kidding my doc that at least i don't have to worry about those two things anymore.her immediate response was "you're 50 next year.you need to start colonoscopies".

damn,doc..can't i have a happy for 5 minutes?




• San Jose, California
15 Mar
Does the prepping cause pain or cramps?

• United States
15 Mar
Depends on your reaction to laxatives. They do make me cramp. Plus, not being able to eat doesn't help.

• Pittsburgh, Pennsylvania
15 Mar
I had one last year and it wasn't so bad. I made a mistake in prep and didn't eat for almost three days before it (don't know what I thought) and i took the drink (mine was like a little liquid that tasted like a good cough medicine) and barely went to the bathroom because my sister said i had no food in me I don't have to go to another one for four more years. i will get a notice in the mail when i need to get another one ( i got mine early too as my mom does of colon cancer. I myself had three cancerous polyps removed wish you all the best

•
20 Feb
Yes gatorade is good for our tummy and it is quencher.