Knitters, take a bow.

Canada
7 responses

• France
20 Oct 06
I knit and work on here at the same time!

• United States
16 Dec 06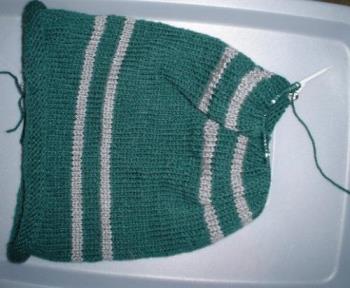 Sometimes I knit online when I'm waiting for downloads or when I have my webcam on in my art chatroom. Other times I knit on the train. Once I took my knitting to the DMV knowing I'd be sitting there for hours waiting. Everyone kept coming up to me to ask questions. I also knit when waiting in Dr. or Dentist offices.

•
24 Sep 06
I can't knit anything! Although it's always nice to recieve something just like that, that people have put so much time and effort into. I guess people will be getting alot less this year from you though! :P


• United States
8 Jan 07
I only knitted washcloths for the women on my list this year (8 of them). For myself, I'm working on a warm, snuggly afghan for the living room. I might get it done by next Christmas because myLot keeps calling me...

• United States
8 Jan 07
I only made one knitted item this holiday, a cashmere scarf for my husband, because I've been working a lot. My work allows me to knit quite a bit but I was doing some consignments for others so let my personal knitting go. Some years I make something for just about everyone, other years I made something special for just one person, etc. It all depends on my time and whether I am using another form of fiber arts like rug hooking, quilting, etc. I've been knitting just about every day though since the early 70's. I am a maniacal knitter and love it


• United States
17 Dec 06
I knitted some things a few years back, but it has been so long I don't know if I remember how. I brought some knitting needles with me, I think. I will have to rummage around and see if I can find them and get back to knitting one of these days. Nothing by xmas though, I am afraid.