Swimming

United States
6 responses

• Canada
2 Dec 06
My favorite stroke is side-stroke. It lets you move fast, but you can also easily keep your face out of the water and enjoy the view. I like backstroke too, except that I hate that feeling of crashing an arm into the side of the pool by accident.

• United States
4 Dec 06
lol that's true! but when your in a good pool they have flags up to let you know when to turn around to turn the other way so that you don't hit the sides of the walls!

• Philippines
20 Dec 06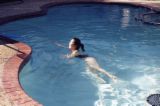 I learned sidestroke when I took up Advanced swim lessons at the YWCA, I don't use it much though except when I need to pull my baby sister while sitting on her floaters.

• India
30 Nov 06
swimming is best exercise for the body I prefer free style

• United States
30 Nov 06
yes it is.. i love to go and swim when i'm stressed out too because it just relaxes me!



• Philippines
4 Jan 07
Can you put you head underwater for 10 seconds? If yes then you're ready to learn swimming. That is actually our first task when teaching swimming.