Chicken or Beef, which do you eat the most??

United States
7 responses

• India
6 Dec 06
I prefer chicken rather than beef




• Philippines
3 Dec 06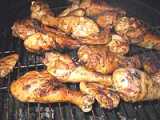 We eat pork most of the time in our house seconded by beef (before, it used to be chicken but since my mom and my other brother have allergy in chicken, so we just serve chicken like, once a month only). Even if I no longer eat chicken as much as I do before, I still like chicken more!!

• United States
3 Dec 06
Chicken. I actually can not eat much beef or pork. I am not able to process the fat properly. Wish my mother would have known that when I was a kid! There were countless times that she would make me stay at the table to finish eating. But since it makes me sick, trying to force myself to eat it would cause it to come back out. My mother always thought I did that on purpose! It wasn't until I was married and talked to a doctor about it that it was explained that I am not able to process red meat like everyone else. So....I eat mostly chicken. I will eat red meat...but in small portions.