Christmas Crafts, Whatcha making???

United States
6 responses

• United States
20 Oct 06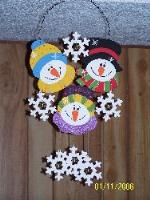 I belong to a crafting kit club and below is a picture of one of them completed. I already sent it to her and she couldn't wait til Christmas to open it lol. I also, like to make/decorate journals. Right now I am actually working on making the Christmas cards, because I have most of my Christmas presents made or bought already.

• United States
20 Oct 06
The picture doesn't look that good when they shrink it down, but you get the jist of it.

• United States
31 Oct 06
That is a very cute decoration. I can never wait to open my gifts from others. i just love getting things in the mail whether it be free samples or something from the garden club or my crafts swaps it is like christmas the day i receive it and curiousity always gets the best of me.lol

• United States
14 Sep 06
Im going to work on the latch stitiches ( not sure on spelling) I though just buying the gifts for my nieces, I can give them something they can use for long time. And it cheaper too :)


• United States
26 Oct 06
we use the paper towel rolls,toilet tissue rolls. This we add a treat a dollar,candle,free gift note,etc stuff it inside. wrap each one with chrismas paper. tapee it to the front door. any kids that stop by can take one down. It is really nice to see th smiles on their faces. I love when they find the dollar. :)

• United States
26 Jul 10
I always make homemade gifts whenever possible. I am hoping to start soon. I am now learning how to make soap and bath salts. I also make felt ornaments as well as mosaic ornaments and salt dough ornaments that I will end up painting. I am hoping to sell these soon. For my younger niece and nephews (they are five) I will be making a book for each child with their name and their favorite thing. My niece loves Princesses so she will be a princess. I have one nephew who loves trains and he will be a train conductor. I have another nephew who loves cars and he will be a driver who is taking a trip across the country. This should be fun.

• United States
14 Sep 06
I have been looking to get some good ideas for some Christmas or Halloween crafts. I am working with GirlScouts and need some good ideas for them to make so if you could please let me in on a few ideas I would really appreciate it.