Cats vs. Dogs

United States
7 responses

• United States
8 Dec 06
I have both a dog and a cat. I would definitely say that I'm a dog person all the way! I have a Golden Retriever and she is such a sweetheart. I love my cat too, but he's much more independent than my puppy! There's something about those eyes when they look all sweet looking at you!

• United States
9 Dec 06
Like George Carlin says, "all the sadness in the world is in a dog's eyes" or something like that. He says "imagine the saddest thing you can think of, and then imagine it's happening to your dog" because their eyes are so sorrowful, etc.

• India
5 Dec 06
its dogs for me, cats creept me out

• United States
5 Dec 06
They creep you out? Are you scared of cats?

• United States
2 Dec 06
I like cats better. They are always cool and they have sharp claws that can scratch people they don't like. I have 7 cats and they are great. I like being able to pick up cats and just carry them around and pet them.

• Canada
8 Dec 06
i love cats but i like dogs too. but i never hav had any dog as my pet. but i had cats long time ago.

• United States
2 Dec 06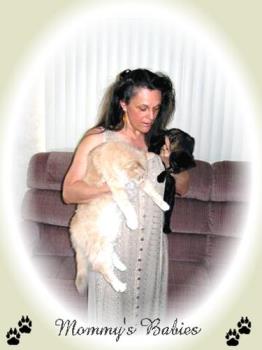 I love cats mostly too. But I adore all animals. I have a big 16 lb. boy, not fat, just large and long haired. I have a 10 lb tortie girl. They both sleep with me and are very affectionate. They are my children.