WHAT THE BIBLE SAYS ABOUT THE CHRISTMAS TREE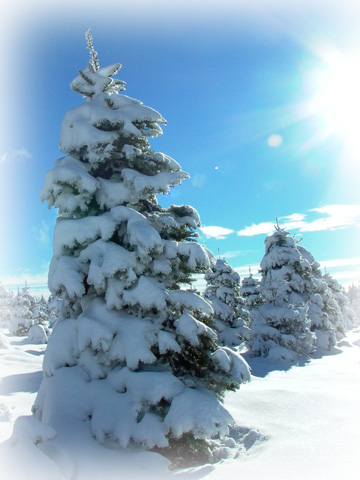 Philippines
December 2, 2006 1:49pm CST
The Bible is silent about telling us to observe Christmas, or recording any such observance by the apostles or early true Church, it DOES have something to say about the Christmas tree. This will come as a real surprise to many. But here it is: Jeremiah 10:2-6: "Thus saith the Lord, LEARN NOT THE WAY OF THE HEATHEN...FOR THE CUSTOMS OF THE PEOPLE ARE VAIN: for one cutteth a tree out of the forest, the work of the hands of the workman, with the axe. They deck it with silver and with gold; they fasten it with nails and with hammers, that it move not."There is a perfect description of the Christmas tree, termed by the Eternal as "the way of the heathen - the customs of the people." We are commanded not to learn that way or follow it. It is also viewed in this passage as idolatry. The fifth verse shows that these trees cannot speak - cannot walk - must be carried. "Be not afraid of them; for THEY (the trees) cannot do evil, neither also is it in them to do good." They are not gods to be feared. Some people MISread this to make it say there is no harm in having a Christmas tree, but that is not what it says.
9 responses

• Romania
3 Dec 06
you are very funny with this...really...the christmas and the christmas tree is only a tradition for remembering teh birth of the Christ...the pine tree is the simbol of eternity..because it is always green..or maybe it looks like it is full of life...the bible does not tell about traditions...it is the God's word and it is refered only to things that can help us to gain salvation

• Philippines
5 Dec 06
you are much funny! Christ's birth isn't what we celebrate during Christmas day! it is a pagan tradition.

• United States
3 Dec 06
Actually, that passage doesn't refer to Christmas trees. Especially considering Christmas Trees didn't exist in the time that passage was written. What Jeremiah is warning about (if you read an actual translated passage,and not a paraphrased version) is idol worship. He's referring to creating gold and silver adorned idols - images of gods that the non-Abrahamic peoples worshipped as though they were gods themselves. As clearly demonstrated in this bit, which you left out: "They are all senseless and foolish; they are taught by these worthless wooden idols they craft. Hammered silver is brought from Tarshish and gold from Uphaz. What the woodssman and goldsmith have made is then dressed in blue and purple, all made by skilled workers. But the Lord is the true God; he is the living God, the eternal King. When he is angry, the earth trembles; the nations cannot endure his wrath." The passage does not refer to Christmas trees, but chopping down trees to make wooden idols. Christmas trees are not idols, they aren't representing a god. Therefor, it's okay to have a Christmas tree.

• United States
3 Dec 06
Jesus is the Reason for the Season!!!! Not the Tree!

• Romania
3 Dec 06
the christmas tree is of heathen origin. germanic tribes used to chopp of trees and ornate them in order to celebrate the winter aequinoctium, which by the way is exactly in the same period as todays christmas celebrations. the early christian church, in order to get rid of heathen habbits, proclaimed 25 december to a festivity, so that it would came out to replace the aequinoctium celebrations, and the baby jesus-story was fully adequated for that

• United States
3 Dec 06
Captain Jack's Christmas Tree Farm Network Traditions: Christmas Trees and Ornaments The fir tree has a long association with Christianity, it began in Germany almost 1,000 years ago when St Boniface, who converted the German people to Christianity, was said to have come across a group of pagans worshipping an oak tree. In anger, St Boniface is said to have cut down the oak tree and to his amazement a young fir tree sprung up from the roots of the oak tree. St Boniface took this as a sign of the Christian faith. But it was not until the 16th century that fir trees were brought indoors at Christmas time. I read the passage in the bible and yes other sources, pagens then used them to warn off evil spirits. This passage has nothing to do with what we call the Christmas tree. This was before Christ.


• United States
2 Dec 06
What religon are you? And what version of the bible did you quote? I did look this up myself. Now I'm going to go look up the story behind the Christmas tree before I put one up this year. This really raises an intresting thought.