Pigs as pets

United States
6 responses

• United States
2 Dec 06
I have heard the same. I heard that they are clean, loving, and very bright. Smarter than most animals. However, you cannot have pigs in all states in certain counties. If you want a pig, you need to find that out, and more about the breeds and what they need.

• United States
3 Dec 06
Well if you go that route, good luck and enjoy your little piggie. They really do make wonderful pets I'm told.



• Philippines
6 Dec 06
I actually have a pig pet. Watch him : http://s93.photobucket.com/albums/l67/bojkrows/?action=view&current=17-11-06_1401.flv


• Australia
2 Dec 06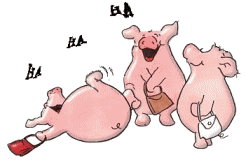 Pigs are supposed to be very intelligent, and only dirty as the owner leaves their pen, I think pigs are beautiful, if I had a farm I would love to have one as a pet but not just to lock him up in a pen. I like to see animals with space and for them to enjoy theor lives like we all want to.