Are break offs easier to handle for women then men.

India
8 responses

• United States
21 Nov 06
Considering I was dumped last night for someone else and he seemed perfectly fine I have to say it's much easier for men. In fact I'm quite convinced that most men don't have feelings!

• United States
21 Nov 06
well..I would have to say that women usually get a little more emotional about breakups..but its all a matter of how we broke up with the guy..thats how cars get keyed, things get broken, etc...guys usually get over it quick once they stumble upon a female they think is "better" than the girl they was just with..some of them can be emotional and weepy too..so it might just be equal...

• United States
21 Oct 06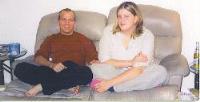 Im not suer who its easer for but it sure seems like its easer for women but it may be just their way of copping that makes it seem that way.

• India
15 Sep 06
men dont emote that doesent mean it hurts ,it does but you must have haerd boys dont cry,just for that they try not to,i saw a man drink and cry after a breakup....and woman did that for a century and became emotinally stronger...kidding...it herats them bad too,they remember it longer than a man.

• United States
15 Sep 06
Depends on who broke up with who i would think if the man broke up for good reasons the break up will be easier for him because he knows he made the right decision

• Bahamas
15 Sep 06
I think its easier for us to break off because if we do we have done that already long time ago in our mind which means if we leave we are free to go - call it emotional divorced Men often break it only to realize afterwards that they still have emotional attachements ... No generalization here - just my observations

• India
15 Sep 06
i think its the other way round..men are emotionally stronger than women..they are able to store a lot of there pain within themsleves unlike women who arent able to do that...