How did you feel when you found out there was no Santa Claus?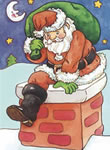 United States
December 3, 2006 1:10am CST
I didn't want to believe it. then I was mad at the girl that told me. I was about 7 or 8. How old were you?
2 responses

• India
3 Dec 06
i was relieved, i dont want no fat man to climb up my home chimney

• United States
3 Dec 06
I GUESS I KINDA ALWAYS KNEW. IT WASN'T THAT BIG OF A DEAL TO ME. MY BROTHER AND SISTERS USE TO FIND THE GIFTS MY PARENTS HAD FROM SANTA HIDDEN IN THE HOUSE BEFORE CHRISTMAS AND MY PARENTS DIDN'T REALLY KEEP IT GOING. THEY DIDN'T SAY MUCH ABOUT SANTA SO I DONT REMEMBER WHAT AGE I WAS WHEN I REALIZED HE WASN'T TRUE. MY KIDS ON THE OTHER HAND BELIEVE IN HIM ALTHOUGH MY NEICE WHO IS 12 IS SPOILING IT FOR THEM. SHE TELLS THEM HE'S NOT REAL AND I AM FIGHTING TO KEEP THAT ALIVE IN THEM. I THINK IT'S IMPORTANT BUT HOW DO YOU KEEP IT ALIVE WHEN SOMEONE IS SPOILING IT. MY OLDEST IS 9 AND I THINK SHE'S STARTING TO BELIEVE HER COUSIN.