What is your opinion of the movie "Cheaper by the Dozen"?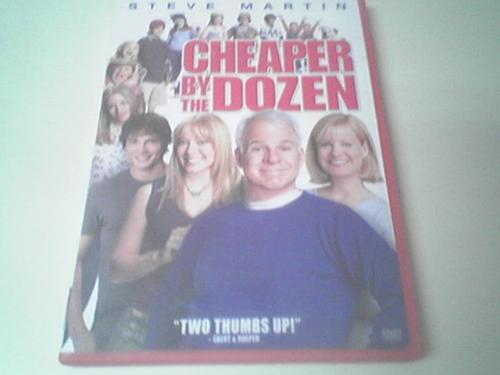 United States
December 3, 2006 7:11am CST
Are there any of you that have 12 children or would like to have 12 children? I know that I would not want to have that many children because I think that is too many to be able to take care. I would want no more than three, even if I was wealthy.
10 responses

• United States
10 Feb 07
I loved the movie: "cheaper by the dozen" and it's sequel which I cannot remember the name of right now.. I don't think any one could afford 12 children nowadays..let along raise them;)+

• United States
10 May 07
I loved the first movie very much but have not seen the second one entirely. The first one was hilarious and can not imagine myself ever having that many children. It would be too chaotic for me. I love children but that is too many I think and too expensive.

• Australia
9 Feb 07
I personally love the movie but that is because I am a fan of Steve Martin. I have three children and that is definately enough. I sometimes think that life was a lot easier with only two. (We are only given two eyes and arms so maybe there is something in that).

• United States
8 Feb 07
If I could afford it I would do it in a minute! I love kids and I honestly do think there is something great about big families!

• United States
7 Feb 07
I love this movie and the sequal was very good as well. I agree I wouldn't want 12 kids but I guess for some it works. I really enjoy the movie. The kids acted realistic. You have your trouble makers, your beauty queens, the smart ones, etc. I liked that about it. It was funny as well, I could picture some of the situations happening especially with that many kids. It's one I do recommend for others to see.

• United States
7 Feb 07
I loved the first movie very much and have not watched the sequel to its entirety but it looked funny. I will have to rent it or buy it and watch it. The actors in this movie were very good and am sure there are families like this out there somewhere. Thank you for your comment on this movie and glad that someone else liked it as much as me. :-)

• India
3 Dec 06
well i will watch it and let you know

• United States
10 May 07
I loved it It is really funny and I really don't know how I would handle so many kids!! But the movie is very funny and the actors are good too, the sequels are not bad either actually Who would want so many kids after watching that movie though?!! LOL well anyway I can't even think about being pregnant that many times!!!! so if I have to raise them on top of that!!!??? LOL To me, 2 is enough ... :D

• United States
10 May 07
I love that movie!! I would not want that many children myself but I think that some women long for that type of family and if they can handle that then they should go for it. I personally would not mind it as much if I knew that I could afford it and if I knew the kids would be healthy and that I could spend the quality time with each of them that they need.

• Philippines
10 Feb 07
It was fun watching the movie. It portrays a one big happy family! Given a chance, I woundn't want that too much children. As the say,"too much of something is bad enough". Better have less so that you can give your full attention and can best take care of your kids.:))

• United States
11 May 07
I love that movie really well..I saw several of the sequels..Ken ah..you can handle 12 of them..maybe not 13 ..but definitely you can handle 12 of them ..I think you would have no more back problems after they got down walking on it;)+