My lot paid 37,5% of this addition to my collection^_^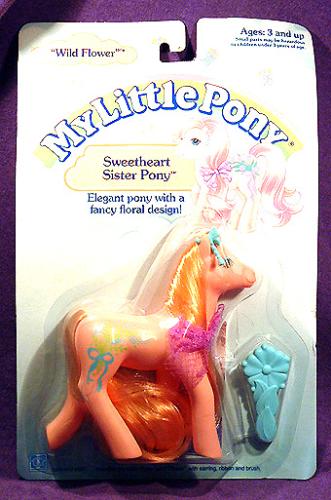 Netherlands
December 3, 2006 7:56am CST
Lots of people ask "What are you buying with the money you get from mylot?". I personally used the money I got from mylot for buying a new addition to my collection of 80's my little ponies. I had some money in there from a previous sale as well as money from my mylot earnings. With these earnings I was able to bid on her on eBay and I won her :) I totally love her. I did paid a little more than I had in my paypal account... so my credit card will be charged a mayor 4 eurocents :P LOL! YAY! I am so happy :) Thank you mylot!!!
10 responses

• Italy
3 Dec 06
Nice collections... nether think about to collect elves or gnomes?

• Netherlands
3 Dec 06
I think elves are very pretty and gnomes are fun too, but you can't simply collect anything or everything and I like MLP most :) I don't collect all MLP, just the vintage (80's to 90's) ones. That still gives me a mayor lot of stuff to look out for and I will most likely never complete a full collection (new things are discovered daily and there is way too much merchandise out there), but I guess that keeps things fun. Once done, most people loose interest in their collection and sell it... I wouldn't want that to happen.


• Netherlands
3 Dec 06
I'm sure you will, it adds up pretty fast. The next payout it around or on the 15th of every month for the previous month earnings (in case you didn't know that allready). I hope everything goes well and nice to see you around :)

• India
3 Dec 06
thats a great story mate.

• Netherlands
3 Dec 06
Thank you so much for your comment, have you had any pay out so far? And if you did, where did you use it for or are you saving it?


• Netherlands
3 Dec 06
That's a great way of using it also, glad you had such a good purpose to use your mylot earnings for :)

• India
4 Dec 06
Even I would plan something after my first payout which would be in this month most probably I would buy a leather jacket.

• United States
3 Dec 06
Heck, I've only made $10 in mylot, but I buy on ebay anyway. LOL

• Singapore
6 Dec 06
is that a good toy? i would want to buy my kids this christmas.

• Netherlands
6 Dec 06
It depends on what you are looking for in a toy. These specific my little ponies are no longer sold and collectors items, but I loved them as a kid and there are more recent versions sold in toystores at the moment. I think the most important thing is that toys get the attraction of kids, are safe, and it can be a + if they are educational (but remember kids learn from basicly every thing they do, so even a stuffed toy can be very educational! :) Based on what you are looking for in a toy this can be a great toy or something you would never want to provide for your kids; it's your call.


• Netherlands
4 Dec 06
$8.85 In 3 weeks isn't neccesairely bad, depending on how much time you spend here and how much effort you put into it. It's possible to make perhaps $5 a day or even more with referrals, but you would have to be active for a lot (and I mean a lot) of hours, or know your way around it and post a lot of pics and quality discussions that gets lots of responses.

• United States
4 Dec 06
Ooh, she is so pretty! Congratulations on her! What a great way to use your earnings. In my opinion at least. I'm hoping to set aside my earnings in the same way, but I'm never on here enough to matter. Thanks for the picture!

• Netherlands
4 Dec 06
I think every little bit counts :) Last sunday I made $2.99 with my discussions! I never made so much in one single day, at least not since I've been working. I made a lot of quality posts and none if it was earned through referrals, $2.97 in discussions and 2 cents for posting pictures. It can make a lot of difference and you can save it up too, but if I hadn't that $13 I made from mylot I wouldn't have been able to buy wildflower... so it might not seem much but it sure helped me :)

• China
4 Dec 06
this money is very special forme. I mean i will spend it in a way easy come, easy go.