Bean curd is more nutritious,do you like eating it?


China
7 responses


• China
4 Dec 06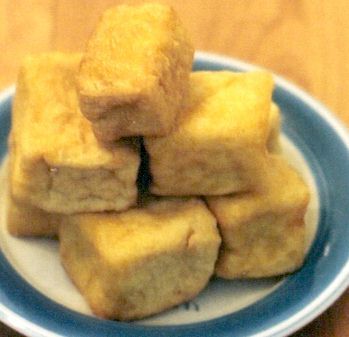 yes I do.it is my favorite food. Bean curd has much nutritious and can be cooked in my ways .here is my faverite recipe for bean curd. These are golden squares of bean curd that have been deep-fried. You'll find them in cellophane bags in the refrigeration section of Asian markets, sold under a variety of names, such as Bean Kow or Bean Curd Puffs or Tofu Puffs. Deep-frying makes them very chewy. The beauty of deep-fried bean curd is that it becomes super absorbent. That's why tofu puffs are popular in stews (it's best to briefly blanch them before using to remove excess oil). However, I confess I have an addiction to eating them right out of the bag. Other people indulge in slices of cheese or a carton of ice cream during their midnight raids at the refrigerator - I devour tofu puffs. At least it's healthier! Storage: Keeps refrigerated for several days

• China
4 Dec 06
you really like eating bean curd,do you like eating "Ma-pow" bean curds?

• United States
3 Dec 06
I have never had it .. how do you make it?

• China
4 Dec 06
it is made with soybean,is more nutritious,i can cook well.

• United States
31 Dec 06
Yes, I like eating it very much. It has so much protein and keeps me from getting hungry.

• China
31 Dec 06
Yes , I like eat it. But I like it with more pepper more.

• China
31 Dec 06
Bean curd is a useful food.i often eat it for dinner. Boiling it with fish,that will be delicious.everyone should eat it every week,because we need it indeed!

• Hungary
30 Dec 06
I like curds. I do not know what is bean curd, but probablyit is good also. :)