Do You Like Depeche Mode? What Is Your Favourite Song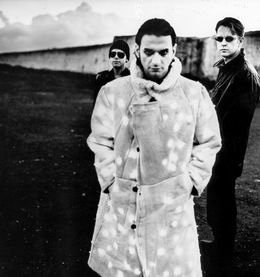 Italy
December 3, 2006 2:07pm CST
I'm listening to "Play The Angel" album! It's amazing! They're one one my favourite band! I think they're the best electronic band ever! My favourite song is Enjoy The Silence. Do you like this band? Which is your favourite song?Only 4 very good fans: If you know well Depeche mode lets see if you reconize which video is the pic i posted:P
6 responses

• Los Angeles, California
11 Feb 16
I like so many Depeche Mode songs. Just Can't Enough of that Personal Jesus!


• United States
25 Aug 07
I may be their oldest fan--- I haven't missed a concert performance in a very long time, and also saw Dave's 'Paper Monsters' show, which I thought was great! The latest I've heard is that DM WILL be touring next year for their new album 'Hourglass'... I wish Dave was doing another appearance for his new solo album 'Kingdom', too, but then I'm very greedy..... My favorite DM song is the one I'm listening to right now, and the one before it, and the one after it!

• United States
30 Aug 07
Actually, I do kind of like Depeche Mode. I never really listen to them, nor do I have any of their stuff, but from what I have heard (my mom is a big fan), they had some pretty cool stuff. Metal is more of my kind of thing, but some of that '80s new wave stuff defnitely has its appeal.

• India
25 Aug 07
i .... neva heard of them :) .. bt ill check .. out some of their album now.. since .. they sound quite gud :)