Full Metal Alchemist The Movie: Conqueror of Shambala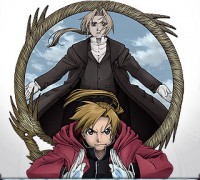 Philippines
December 4, 2006 12:49am CST
Have you watched the movie? Did you like the storyline? I love the movie, great story. Definitely a must-see. You have to watch the episodes though to understand what happened. Here is a plot summary from http://www.animenewsnetwork.com/: Munich, Germany, 1923. Two years have passed since Edward Elric was dragged from his own world to ours, leaving behind his country, his friends and his younger brother, Alphonse. Stripped of his alchemical powers, he has been all this time researching rocketry together with Alphonse Heiderich, a young man who resembles his own brother, hoping to one day find a way back home. His efforts so far had proven fruitless, but after lending a hand to a troubled gipsy girl, Edward is thrown in a series of events that can wreak havoc in both worlds. Meanwhile, at his own world, Alphonse Elric ventures deeper into the mysteries of alchemy in search for a way to reunite with his older brother.
5 responses

• Philippines
4 Dec 06

haven't watched it yet. where did you watch the movie? i like the anime version a lot, i thought at first it's not that really good but when i've continue watching every episode it's very interesting. i want to watch it since the anime episode in animax has ended:)

• Philippines
5 Dec 06

Animax channel now has a reply of the episode, and i'm going to watch it over again, lol! i really love the elric brothers especially Roy Mustang, lol!

• Indonesia
20 Dec 06
Yeah I already watched this movie, after a long wait ... But it is not a worth wait since I am fan of the tv series. Just not satisfied why they leave Winly alone in their home T_T Poor Winly. Has U all read the manga yet? Its has a real different story.

• South Africa
29 Dec 06
I love FMA but I found the movie disappointing. The serie is about a world of alchemy but the movie is a lack of it. It's rare to find someone that look exactly like you but in the movie, all the double are in the same place. I think they were just lazy to design new characters.

• Australia
11 Dec 06
No don't know the movie. Is it a nice movie? huh?


• Philippines
7 Dec 06
We recommend that you watch the series, really nice story and funny at times. But about the movie, I am not sure everyone will appreciate it. There are already some spoilers mentioned from the first response of this discussion. Thanks for you response though.