Howard the Duck!!!

United States
December 4, 2006 8:17am CST
OH MY GOODNESS!! I'm watching Howard the Duck!! I use to LOVE this movie as a kid!!! It's still great!! The humor is great. Did you know that George Lucas directed it?!
2 responses

• United States
4 Dec 06
My kids used to LOVE that movie!!! Sometimes I still find myself singing the words - "Howard, the DUCK" but I don't remember the rest of it. It was a very funny movie though - in a stupid kinda way.

• United States
4 Dec 06
Yes exactly! I hadn't seen it in years and I was all into it! It was so funny!

• Philippines
11 Dec 06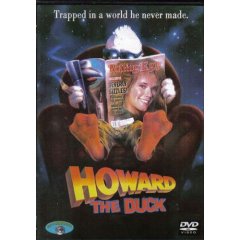 This is a cult classic! Much like the book "Watership down" brought human qualities to a rabbit, this duck goes beyond that simple parallel. The story moves well, it is funny, and holds your interest and is fun watching every so often. I really was pulling for a "cross species" union...but you will have to wait and see the logical ending. I wore out my VHS and have to wait for a lower cost DVD or another VHS so I can re-watch and enjoy this classic 5 star movies (for those of a similar mind set) and add it to my library...