Have you ever felt that you have foreseen an event?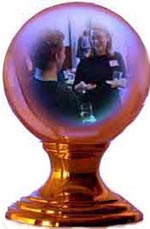 India
December 4, 2006 9:26pm CST
Many times I have foreseen things.
3 responses

• United States
5 Dec 06
What have you seen? I have dreamed true many times.

• United States
5 Dec 06
Interesting. Do you still have these experiences? Like the 2nd poster, I noticed with age my experiences diminished.

• United States
5 Dec 06
Yes, I used to have premonition dreams quite often, especially as a teenager. It was like having a sense of deja vu because I would dream something and then later on it would happen. Never knew exactly how long. Sometimes it would be within a day or two of the dream. Sometimes it would be months but then when it would happen I would feel I remembered the scene from somewhere and then remember I had dreamt of it before. Used to kind of scare me a little because a couple of the dreams were very sad. I haven't had one of these in many years now.

• United States
5 Dec 06
I had a lot of these in my early to mid twenties. Maybe with time, we stop believing or too caught up in our daily lives?

• Philippines
19 Feb 07
deja vu, I call them. I've experienced that often enough that I stop getting surprised. I just know that when one of my dreams is happening right before my eyes, things seem to move in a slower tempo.. kinda like a slo-mo sequence, and I can see sepia glows all around. Then I'd be guessing one person't reaction and I would be right, and then I would just suddenly say, "I've seen this before."