which need for speed did u like most

Pakistan
December 5, 2006 9:49am CST
i dont they if this topic is disscused or not but still... My favourte is Need for speed Most Wanted which is yours
9 responses

• India
18 Dec 06
no doubt it's the need for speed most wanted... as it gets difficult it gets more interesting... doesn't it.... i think carbon will rock....


• Philippines
18 Dec 06
need for speed carbon is amazing.. canyon race is awesome..

• United States
18 Dec 06
Need for Speed Most Wanted is by far the most realistic of the series so far, in my opinion. In Carbon, they tried to hard to appeal to the rice crowd with a huge emphasis on spoilers, and less details on performance. Also, there are events called "Drifts", which remind me of the cheesy Fast & Furious Tokyo Drift... maybe it's just me


• Pakistan
9 Dec 06
I have played all of them and the best is the Most wanted!!!! The story, the gameplay, the thrill, its Great.

• Singapore
9 Dec 06
I like need for speed underground 2 also ^_^

• Pakistan
9 Dec 06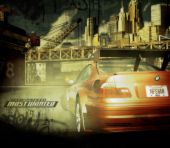 I Like Need For Speed Most Wanted but i didn't play need for speed carbon yet i heared from lot of people that need for speed carbon is best