My Husband Could be the Next Felix Unger

United States
December 5, 2006 12:27pm CST
Do you remember the show the Odd Couple? My husband is so like Felix Unger. He is a cleaning fanatic. At the moment he is in our spare room hauling out. This room stores all of my craft items, his stuff that he can no longer fit in the computer room, the Christmas gifts, toys for the grandkids to play with, books, the ironing board (which I use about 1x a year), shoes, my pack rat items, and also the guest bed. He has been in there for aboug 4 hours now. He has hauled out 2 bags of garbage. Now, I don't remember putting the stuff in there. I am glad that he did this now. He has found several books on craft ideas that I have been searching for and also found some items that I had given up on finding. Sometimes being married to a Felix Unger type is a good thing. Now if I can only get him to shut up about it.
11 responses

• United States
5 Dec 06
Would you be willing to rent him out for a few days? I need someone to come into my house and declutter! I am sure I would find some great surprises if I started to dig in the closets and corners. I am filling my vehicle with Goodwill items all day today!

• United States
5 Dec 06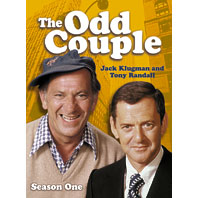 It can be arranged, he doesn't have a job right now! He would impress you with his cleaning abilities. He has recently applied for a cleaning position. I should have put Felix Unger type on his resume.

• United States
5 Dec 06
When he's done cleaning, could you send him over here?! I have some cleaning and straightening up that needs done! LOL I wish my son and hubby were neater. I can't say too much though - I'm not always the neatest person. You might want to tell your hubby while it's great he's so good about cleaning, humbleness is a GOOD thing! LOL :)

• United States
5 Dec 06
That is why I refer to us as The Odd Couple, he is Felix and I am Oscar. I am AKA the clutter queen.

• United States
5 Dec 06
Nothing wrong with clutter....my piles are organized?! LOL

• United States
12 Dec 06
he he... my husband likes to think he is a neat freak..however he thinks that if it is out of sight then its clean. I have multiple times started cleaning a closet and well ah have to stop in the process because a kid being sick, kid being hungry, kid needing a bath etc... and before I can get back to it... ugh.. he has thrown everything back into the closet and more... I get so furious and we argue about the mess because well ah I am not organized and some days I do agree that the house is a mess but man if he would just let me finish what I started(yes it may take a week) then maybe I could get organized...However my dh has ocd (over compulsive disorder) he has never been diagnosed with it but I know he has it. Like wiping out the sink everytime you use it or you will have water droplets on it.. ugh....silly things like that...

• United States
12 Dec 06
sounds like my husband....never happy with how I have cleaned and will clean behing me.

• United States
7 Dec 06
I always thought my husband would be the perfect house husband! He's a better cook than I am and he is more organized and can keep house better than I can. Too bad I can't make enough money so he could stay home and do it all!

• United States
7 Dec 06
My husband is hands down the better organizer. Sometimes he really gets carried away with it. I'll ask him what he did with something and he can't remember where he put it. He thinks he is the better cook. He can cook well, but he cooks with too much fat and salt.

• United States
5 Dec 06
I wish my husband had just a little felix unger in him. If he drinks a glass of milk before bed it sit in the sink not even rinsed out, this morning he made oatmeal, the bowl was left for me to put in the dish washer and the jeans he wore yesterday are in the bedroom on his chair. I'm glad this is no spare room in my house because it would look just like the one your husband is cleaning. That would drive me crazy. I say there a place for everything and everthing in it's place.

• United States
6 Dec 06
My husband will look for things to clean even if there is nothing, he will find something. Even the smallest morsel left on the counter is reason for him to say, what a mess here!

• United States
5 Dec 06
LOL. He's absolutely die if he saw my spare bedroom!

• United States
5 Dec 06
I will send him over, but be advised, he gets a bit wordy. The first thing he would say, is "Oh my goodness", then he would say "what a mess here". : )

• United States
12 Dec 06
Sorry I have not heard of the show.

• United States
5 Dec 06
I never caught that show before.

• United States
22 Dec 06
My fiance is the same way. He is obcessive compulsive about it. He will start huge projects on a whim. Sometimes he is even up scrubbing imaginary spots on the carpet. He gets mad at me for not helping... and then he gets mad at me because he doesn't think I'm doing it right. It's funny because growing up my mom had a cleaning business and we all helped. But he feels like I don't know anything because his mom did it a different way.

• Ireland
22 Dec 06
Elusive Butterfly, if you could send him over to my house when he's finished in yours I'd be very grateful. At this stage I'd even consider paying for his flights!!!