When does a cat become ferocious?

India
December 6, 2006 6:12am CST
Does something like that happen?
3 responses

• Philippines
6 Dec 06
Feral cats are homeless cats, many of whom were born in the wild; others are pets who were abandoned or have become lost.They are for all intents and purposes wild animals. A feral kitten may hiss at humans. They are usually terrified of humans. The kitten which acts the most ferocious is just the most scared, but it is capable of giving you a nasty scratch or bite and will probably try to escape if given the chance. Remember that to the kitten you may be a predator; the kitten may think it is fighting for its life.

• Austria
6 Dec 06
when you will not feed your cat then they become furious and wild. I have cats also. There was a time i forgot to feed them. When I got home, they were fighting and messing all over the house. A dog also will help you make your cat furios:-)

• Canada
6 Dec 06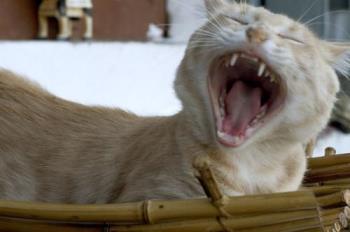 Play aggressive cats can appear ferocious and scare their owners. Most cats that are play aggressive are young cats that are attracted to moving stimuli. Play aggressive cats will sometimes be more attracted to one member of the family that they find more fun then other members of the family. This family member might scream and run from the attacking cat. The play aggressive cat will do one or all of the following: stalk, crouch, chase, tail twitch, and stare. Watch two cats fight and you will see many of these behaviors but during an actual fight the cats ears are back; during play aggression the cats ears will be forward.