Does anyone know of a good way to stop a 9 year old gelding from bucking?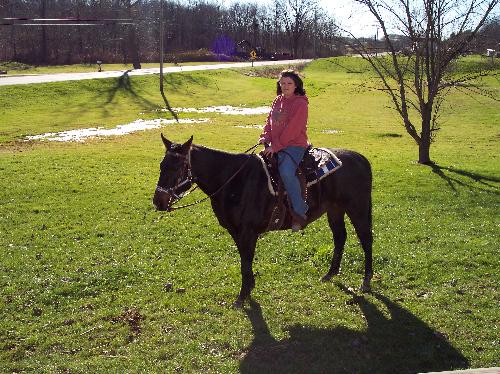 United States
4 responses


• United States
8 Dec 06
Thank you, everyone!! I am trying the running one as soon as I possibly can, the weather is getting horrible here and I dont really feel safe running him for that long on the road and I really dont have much land but yes I am absolutly going to try that one!!! I am actually excited now about this!! To answer Silverchic- no he does not buck when I am lunging!! He's just lazy, I have even ridden him with no saddle and that time he got me completely off!! Thank you everyone for your replies!!

• United States
8 Dec 06
Well, so far from previous posts, I see that some people have good ideas and suggestions. I one time was training a horse for racing. She was new to the race track and was not completely broke. One old trick that race horse people use for a horse like this was to start cantering. If the buck, make them run! A horse cannot buck when it's running. I made this horse run for 2 miles. When we were done, she was tired. The next day, we went out and she tried to buck again, and I made her run again, for 2 miles! Again she was tired. The next day, she was still rather tired from the previous two days of running those 2 miles. I started out at the canter, she tried to buck, but I made her run, this time a half mile.... After the half mile, I slowed her down and resumed a normal canter for the last half mile. The next day I gave her a full day off to rest up completely. Since she was a younger horse, she learned that with her bad behavior was unacceptable and that the normal canter was easier on her than the tiring run. She never bucked after that. Perhaps try this if you have the spacing. Since he is a nine year old, you might have to use this pattern twice. The important thing is to keep that head up, and keep an eye on the ears. When the ears disappear, that means the head is between the front legs and that horse is SERIOUS about bucking!

• Australia
8 Dec 06
Good advice! If he's just being lazy then probably all you can do is sit deep in the saddle and keep his head up. Try and push him through the bucking - don't just let up and allow him to slow down again, keep pushing him on and keeping his head up!

• Australia
7 Dec 06
Does he seem like he is in any pain from the speed or is he just being a lazy bugg*r! =) Have you tried using a whip (or just a stick)and giving him a LIGHT tap (I don't condone whipping a horse but I have found a whip to come in handy at times) just behind your leg when he starts bucking? I used to have a brumby x mare that did a similar thing (just from laziness) and this seemed to fix her!

• United States
7 Dec 06
Yes actually I have tried to use a crop but I think I just confused him more than anything because on days that I do not ride I often lunge him and I use a crop for that so everytime he sees this crop he knows he is going to start excercising. So when I was on him and had the crop he had no idea what to do, he wouldnt listen he just stood there..lol so now I am just left with this lazy goof ball who so stubborn!!! No he isnt in pain because he can run like he** when he knows we are done riding!! He just lazy!!

• Australia
7 Dec 06
Does he ever buck when you are lunging him? Or just when you're actually riding?

• United States
8 Dec 06
Well, as a professional horse trainer I see many horses that buck for many reasons. My first question would be when you lunge him and he canters does he buck? Sometimes when they get to pick up the pace they get a little happy and do a "happy buck" as I call them. Do you think he's doing a "happy buck" or a dangerous "get off my back" buck? If they are just "happy bucks" then before you get on take him in a round pen and let him work out those bucks before you get on for your safety. If he is continuously bucking something may be off with your saddle. I don't reccomend using a crop. Many horses I know if you tap them with a crop they hop up because they aren't sure whats hitting them so that may intensify the bucking. Some other things you can try are: When you ask for the canter- keep your hands up a little higer than usual and keep your reins with decent contct and keep his head for going down. It is very difficult, nearly impossible, for a horse to buck with his head up. Also, I would work him in a small circle when you are cantering him. Most horses have an easier time bucking on a straightaway. When he starts to buck you can choose to either ride his buck out (most people aren't very comfortable with this idea) or you can take 1 rein and pull him around to either of your knees. He will be forced to stop becuase horses can't buck if they don't have their balance. If you have a round pen I would work him in there to start and when he realizes he can't buck because you won't let him then I would take him out and try him. Sorry I can't give the best discriptions I do a lot better on the back of a horse and espceially if I can see with the horse and work him personally. If you have any other questions lets me know.

• United States
25 Dec 06
Are you sure he is not bucking due to something in the saddle hurting/bothering him for starters? I train a horse who I have to use two thick pads and a specific cinch and keep them very clean. She is very sensitive. Otherwise, typically a horse will buck to show that what you are trying to make him do is confusing him and so he'll buck to show his frustration. Or they'll do it because they know it's worked to get their way in the past. the best thing to do with a bucker(in my opinion) is to start out by working on flexing his head around to light touch so the horse gets a softer mouth-maybe you already do this. But when the horse bucks, bring his head around. This disengages their quarters and they become incapable of bucking unless they get their head back straight. Do not rip the horses head around though-it will ruin all the softening of his mouth that you have accomplished. But, if he does it when asked for a certain lead, gait, etc.. pay attention to that. Make sure that nothing on the saddle is bothering him or that he is sore on a certain side. Then, make sure you are not confusing him when asking him to do whatever he bucks at. I hope this helps.