Cyprus: warm sea, lovely beach, sun.... that's what I like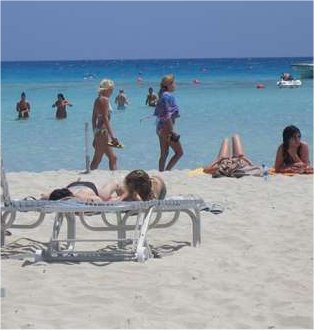 Italy
December 6, 2006 5:41pm CST
I am surprised that no one here is talking about Cyprus. There are a lot of reasons to visit this lovely Mediterranean Island also in winter (when temperatures are really good for the cold European people) My best but not the only one reason were and are (because I am thinking to visit again) sun, beach (do not forget Cyprus is an island, so there are more than four hundred miles of coastline) and warm sea (really really warm). I have been on Aya Napa Beach (or Agia Napa) that is a touristic area with wonderful beaches (may to many hotels) and an interesting nightclubbing. What can I say more? Go in Cyprus and spend you time on the beach!
6 responses

• Italy
19 Dec 06
I am thinking to visit Cyprus now. Your description is so good that I'd like to go now. You do not talk about history of Cyprus (that is very important) and about the problem between Greece and Turkey (that is a big and important problem). I think you went there to go to the beach and I am thinking to go there to do the same.

• Italy
19 Dec 06
Yes, it's true. I didn't write about politics problem of Cyprus but the discussion is about beach and sun. Thanks.

• United States
8 Dec 06
I went, but only for a day. I took a boat from Greece to Israel and it stopped over in Cyprus for a day. I thought it was very pretty and would like to go back sometime to see more.

• Italy
7 Dec 06
Never been there... but why not a day?

• Hong Kong
7 Dec 06
I don't know where is at,and I've never seen the place on tv or pics.by hearing your describtion,I think I might go there someday if I have time and money.Thanks for letting us know.

• Italy
8 Dec 06
Don't worry Cyprus is not so expensive (but really also not so cheap).