What are you bringing to Christmas Dinner?

United States
December 7, 2006 6:35pm CST
Do you bring a dish to your family's Christmas dinner? If so, what are you going to bring? I just found a neat recipe for an easy carrot-raisin salad: Grate 3 large carrots Add 3 Tablespoons finely chopped onion 3/4 Cup of raisins 6 Tablespoons lemon juice Just mix together and chill for a half an hour. It's not sweet like some other carrot-raisin salads, but I liked it. I may bring that to dinner, but I'm not sure. What are you bringing?
6 responses

• Austria
8 Dec 06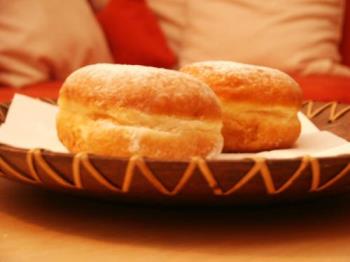 Im gonna make donuts and bring them to our Christmas dinner in parents residence. This is all i can make. I would have wanted to make a cake but i can not. its too complicated for me. I would have wanted to make some Strudel but its too difficult to handle the dough. I think im gonna do good with Donuts. I took some photos of my donuts i made today. this is my test for the grand finale on december 24:-)

• United States
8 Dec 06
He he he! That would be different. Your photo is very appetizing, though.

• Ireland
10 Dec 06
I don't like cooking so my daughter is having the family dinner at her house on Christmas day. I will bring some drinks, biscuits and sweets. Maybe a couple of cartons of fresh cream as we are usually half way to her house when she phones to ask us to pick up some cream.

• United States
10 Dec 06
Thanks for answering. My mom wants me to pick up rolls, too. But, I told her that I would bring the recipe over.

• Canada
10 Dec 06
what am I bringing?...lol...thats real easy....my stomache!!!..lol

• United States
10 Dec 06
He he, thanks for answering! I hope you get a full stomach and not a stomach ache! ;)

• Belgium
10 Dec 06
Our Christmas dinner was always a mouth-watering-experience, consisting of a spread of vegetables and baked or fried fruits or ambrosia along with the turkey and homemade gravy. The homemade stuffing was delicious, and real mashed potatoes drowned in creamy butter topped it off. Don't forget the corn! Once my mother forgot; never again. Dessert was always homemade apple pie with whipped cream or a slice of cheddar cheese and the choice of pumpkin pie or a sliver of each. Somehow the entire family squeezed chairs around a huge table in the tiny dining room because it was absolutely necessary for everyone to sit at the same table, of course the children had their own table for several years as there were so many people gathered around. I have a vegetarian brother who has inspired several new vegie dishes and the added option of fish for Christmas - yum. I'm not a fan of ham, my mom makes that for Boxing Day now so I can have left over Turkey if I prefer. My husband makes a rather nice stuffing and twice we have cooked our own Christmas Dinners because one year my parents were out of town and the other time, we were away and there was ham for dinner so I insisted we cook a turkey dinner when we came home. On Christmas Eve, I bring over my famous dips to snack with and my mom and dad team up to serve up a variety of tasty buffet snacks and wraps to the thirty or more people who pass through for the evening. In many ways Christmas Dinner is the same as our Thanksgiving Dinner, but with more people stopping by and Christmas music playing in the background.

• United States
10 Dec 06
Wow, thanks for answering. I like apple pie with cheese, too. It's funny, I don't think I had it with cheese until I moved out to California. But, now, everyone looks at me strange when I saw that I like it that way. I must have had it when I lived back east. I'm also not a big fan of ham right now. It's too high in sodium and gives me headaches. Sounds like quite a gathering.

• India
10 Dec 06
well rite now i m in my hostel but i have some plans for christmas well as for dinner i cook well so i ll try out a few recipies after watching cookery shows or else a chocolate cake

• United States
8 Dec 06
Usually we have dinner at our own house, in which case I make most or all of it. This year we've been invited to a friends house. I don't know if we are going or not yet. So I can't answer the question.

• United States
9 Dec 06
That's OK. I used to almost never bring a dish because I couldn't afford to buy extra food for other people. This year, I seem to have enough that I can do it.