The best guitarist

Indonesia
9 responses

• Indonesia
18 Dec 06
I think there's no the greatest guitarist ever. because every guitarist has their own styles, techniques and skills. a guitarist would be called the greatest if he/she could play every kinds of music. I doubt if Satriani could play as much as it. Does he can play middle east or asian music? or african music? :) the great guitarists such as Satriani, Vai, Gilbert, Eddie VH, Malmsteen, etc has their own best talent and techniques on their genres :) so, that's what I think :D

• Indonesia
19 Dec 06
Yupe, youre right. I have myown style too. But listen to Satriani and Vai, you'll find that they can play middle east and asian music. The great Guitarist must be can play every genre of music

• India
5 Jan 07
il hav to agree. i think satriani is the best guitarist ive heard in a long time, beleive me ..ive heard lots.. but satrianis performances with dream theatre are simply awesome. hes the best ....rok on

• Indonesia
31 Jan 07
Yup, but Pettrucci is going to G3 jam with Satch and Paul Gilbert in 2007


• Australia
8 Dec 06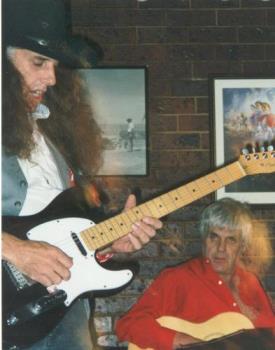 To me the best guitarist is an Australian guy called Warren Keats, when he plays he has people standing around gobsmacked, he can play just about any instrument going but he is a master on the guitar... One musician who always wanted to play a certain very difficult piece of music but couldn't and couldn't ever get anyone else to do it quite right either until he came across Warren Keats, within 30mins he had it perfect....he is amazing.....

• Sweden
8 Dec 06
What about Yngwy Malmstean. I think he is a best gitaris too

• Indonesia
14 Dec 06
Did you mean Yngwie Malmsteen? Yea he's the right ones

• Brazil
29 Oct 07
No. Be the "greatest guitarist" requires a lot of qualities. Satriani don´t have tecniques like legatto, tapping, two hands, sweep picking, arpegios, sweep tapping, alternate picking as many other guitarists, like Steve vai, paul gilbert, john petrucci, michael romeo, etc. This is one techinical analisys, so, for me, steve vai is the greatest guitarist, because he know "all the techs" and apply in his music and style.

• Philippines
30 Apr 07
joe satriani??? nope. I don't think so dude. I have browsed onto a site but I can't remember its address. it says there that the greatest, best and outstanding guitarist in the world is no other than Michael Angelo Batio. do you know him? well........ he only uses a one of a kind dean markley double-x guitar. he plays right/ left handedly. and ont the rankings, yngwie malmsteen was only third place because on the 2nd ranking, The Cat was the name of the guitarist.....take note!!- she is dressed like CATWOMAN!! and about John Petrucci.... he was only on the 6th place. I browsed Joe satriani there and found out that he was on the 12th rank.

• Indonesia
1 May 07
I have never heard Michael Angelo Batio, but I will look some informations bout him, thanks crysea.


• Indonesia
1 May 07
Hallo, thanks Junto, I know that you a boy but you places a cute girl.


• Indonesia
8 Feb 07
Yupe, I am agree with you, so as Def Leppard said, Lets get Rocked

• Indonesia
26 Jan 07
Yeah..yeah... I agree that... He can make the guitar singin'.hehe.. his skill is very good.and his songs are easy listening...

• Indonesia
31 Jan 07
Eee, ketemu lagi Diajeng Otong Bean, Thanks for your response, so lets listen to Satc together.

• China
24 Oct 07
he is not the best but he is good melodic guitarist!..literally there are thousands of guitarist equal to satraini,he has nothing special techniques or any phrase that can relate to him as a boss.