It's over for Jennifer & Vince ?

India
December 8, 2006 1:14am CST
Jennifer Aniston and Vince Vaughn finally maker their split official . What about your views ?
6 responses


• Romania
8 Dec 06
couples in hollywood hook up and split up all the time..so it's probably true, but maybe they'll make up after a short time

• United States
8 Dec 06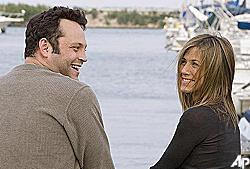 I just heard about that this afternoon! I guess I'm slightly surprised because they seemed like they really cared for eachother. At the same time, I'm not surprised because they didn't really seem like they were a good match... I dunno, I just never felt it!

• Malaysia
26 Nov 07
I never liked their relationship and I'm glad it's over.. To me, Jennifer Aniston deserves someone much better..

• United States
6 Aug 07
I never really though of them as being someone in a serious realtionship, they just never really seemed to act like a couple.

• United States
12 Dec 06
I'm not that surprised. Vince always didn't seem like the settling down type to me. Last time he had a girlfriend was years ago. I didn't think he was serious.